Michael Owen defends footballers
Posted on October 28, 2010 by SoccerPunter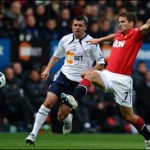 Manchester United striker Michael Owen has come out in defence of his fellow professionals saying that not all of them are overpaid, arrogant and with over-sized egos.
His comments follow another round of negative headlines regarding the behaviour of some high earners in the Premier League stemming from Wayne Rooney's massive new contract at Old Trafford.
This came against the backdrop of the government's recent spending review, with footballers becoming an easy target for critics, with some quick to brand them as being out of touch with the rest of society.
Owen insists that such sweeping generalisations are unfair on many professionals.
"People like to judge footballers as a whole, but I think that's pretty unfair," Owen told BBC Radio 5 Live.
"Everyone's different. I've met some footballers that are absolutely fantastic people, are always visiting sick kids, they do things for charities, but they don't ask for any press coverage.
"They just go about it because they want to do it. Some don't, but that's not to say they're bad people.
"I think it's dangerous if you generalise and say 'all footballers are this, all footballers are that'.
"We're all individuals, we all do our different things, and the common thing is we all go out on a Saturday afternoon and play on the football pitch.
"But apart from that every footballer's different."
Manchester United boss Sir Alex Ferguson has revealed that both he and the rest of the squad received an apology from Rooney for his recent comments regarding the club's direction, and Owen feels the 25-year-old was right to do so.
"A lot has been made out of it but half of it is just to fill papers because of the size of the club and the stature of the player," he said..
"Cutting out all the rubbish, the main thing is that he's signed.
"It's better having Wayne Rooney in your squad than not, so we're all happy in that way."