EPL: West Brom grabs an equaliser at Old Trafford
Posted on October 17, 2010 by SoccerPunter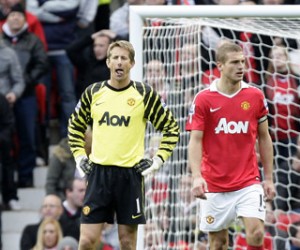 Sir Alex Ferguson's decision to bench Wayne Rooney backfired after Manchester United threw away a 2-0 lead to allow West Bromwich Albion a 2-2 at Old Trafford.
A Patrice Evra own goal and a howler from Edwin Van der Sar which let in Somen Tchoyi enabled West Brom to cancel out first half goals from Javier Hernandez and Nani which had left United in control.
It was a fifth draw in eight Premier League matches for United, and the third time this season that Ferguson's men have had to settle for a draw after holding seemingly unbeatable leads.
After conceding late goals to draw 3-3 at Everton, it was also the second time this season they have given up a two-goal lead to drop points.
It had looked like United returned to form when Hernandez scored his first Premier League goal after just four minutes and Nani doubled the lead midway through the first half.
But Evra's own-goal reduced the deficit after half time and Tchoyi completed the job.
After the midweek disagreement over the nature of Rooney's previous absence — the striker contradicted Ferguson's claims that he had an ankle injury — the England man started on the bench.
Owen Hargreaves was also omitted from the squad after Ferguson rejected Dr Richard Steadman's claims that the midfielder was ready to make a first start in two years after a knee injury.
But United showed they could cope without Rooney with less than five minutes on the clock.
Hernandez showed great anticipation to follow up a Nani free kick, which was blocked feebly by Scott Carson, and the Mexico forward touched in.
West Brom should have pulled level when a Marc-Antoine Fortune cross split the United defence, only for Chris Brunt to miss the target from just a couple of yards out.
Dimitar Berbatov was full of confidence after a fine start to the campaign, sending a fine flick through for Nani and also just missing with a long-range effort.
But he should have doubled the lead when he was picked out by a cross from Michael Carrick, who was making his first league start of the season, only to turn his shot wide of the near post from about five yards out.
Brunt shot wide from distance as he tried to make for his early error.
But another mistake from the visitors allowed United to move further ahead.
Nicky Shorey slipped on half-way, allowing Nani to drive towards goal, swap passes with Berbatov and then guide a shot past Carson.
Giggs limped off just before half time but Ferguson chose to bring on Darron Gibson rather than Rooney.
Just after the restart, fine work from Nani resulted in him crossing for Nemanja Vidic, whose header came back off the post.
But four minutes into the second period, West Brom pulled one back with an own-goal through Evra.
Five minutes later, the visitors were back on level terms thanks to more dreadful defending from United.
Brunt's looping cross appeared to be straight-forward for Van der Sar but the veteran goalkeeper spilled the ball and Tchoyi tapped in to pull West Brom level.
That had the fans chanting for Rooney and United pressed forward, with Carson making a fine block from Evra's thumping shot.
Nani also fired a free kick well over the bar as United attempted to respond.
Rooney was finally thrown on with 18 minutes left as United chased a win.
But the England striker passed up the chance to pull United ahead from an indirect free kick when his shot was blocked.
Saturday's English Premier League results:
Arsenal 2 Birmingham City 1
Bolton 2 Stoke City 1
Fulham 1 Tottenham 2
Newcastle 2 Wigan 2
Wolves 1 West Ham 1