Czech Republic vs Germany – UEFA Euro U-21 – Preview
Posted on June 23, 2015 by Sreya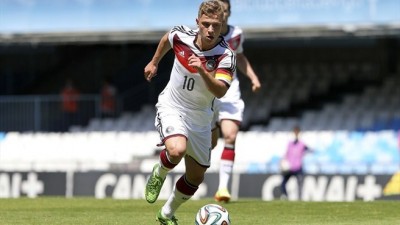 Czech Republic will face Germany in a Group A encounter of the UEFA Euro U-21 at the Eden Stadium. The hosts are on 3 points after 2 games, while Germany lead Group A with 4 points, after their 3-0 win against Denmark at the same venue. Only a win can send Czech Republic through, but Germany will go through even if they play out a draw.
Team News
Václav Kadlec has been ruled out of the tournament after the forward limped off against Serbia after just half an hour, having suffered a ligament damage in the ankle. Kadlec also missed Czech Republic's opening game against Denmark through suspension. Jan Kliment's hattrick against Serbia gave the Czech their biggest win at the U-21 Euro final tournament.
For Germany, Christian Günter is available after serving his one match suspension. Emre Can was substituted early into the second half against Denmark due to his calf problems, but the Liverpool player resumed training and should be fit to start tomorrow.
Team Profiles
The Czech Republic won the U-21 Euro Cup in 2002 and last qualified in 2011. Germany won the competition in 2003 and exited in the group stage in 2013. The last time these two teams faced each other in November 2014, Mortiz Leitner and Michael Krmenčík scored in a 1-1 draw.
The Czech have scored 5 goals with 14 shots on target in this year's competition, while Germany have scored 4 goals from 9 shots on target. Jakub Dovail, the Czech Republic manager has been at helm since 2008 while Horst Hrubesch has been in charge of the Germany U-21s after their disappointing 2013 campaign.
Ladislav Krejci, the Sparta Prague winger provides a constant attacking threat down the left flank and his pace often poses a problem for the opposition defenders. Ondrej Petrak, the versatile youngster from FC Nurnberg, who can play in midfield as well as defense, has an excellent work ethic, which often forms the backbone of Czech Republic's performances.
Max Meyer is the key player for the German side. The 20-year-old Schalke midfielder was one of the brightest spots in the Bundesliga side last season and hold the key to Germany's attacking prospects. He is ably supported by Johannes Geis, the Mainz midfielder who has gained a reputation for his vision and passing at just 21.
Form Guide
Czech Republic – WLWWW
Germany – WDLDD
Contributor's Pick
In seven meetings among the U-21s in friendlies and other competitions, Czech Republic has won once and Germany has won thrice. Coming into the tournament, Czech Republic were in a better form than Germany, but the Germans are in the prime position to advance to the semi-finals right now. Czech Republic, in spite of any result, will advance to the playoffs for an Olympics berth, unless Serbia pull off an upset against Denmark. Germany are the favourites to win by a 3-2 scoreline.