Chile Win 2015 Copa America
Posted on July 5, 2015 by Sreya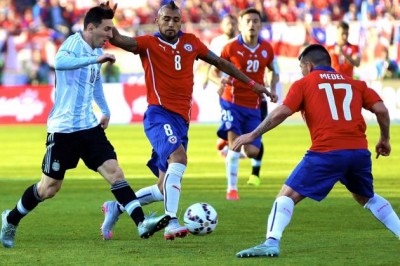 Chile ended their 99 year wait for Copa America with a penalty-shootout win over Argentina, as the hosts finally won their maiden title after a long stretch of 173 matches, having been a part of the Copa America since its inception in 1916.
As Alexis Sanchez scored the winning penalty, the entire cauldron that was Estadio Nacional at Santiago erupted in sheer joy and relief. The golden generation of Chilean football had finally achieved what it set out to do. Lionel Messi and his teammates could only stare in disbelief as the wait for an international trophy continued for the Argentines, who have not won a single competition in the last 22 years, since their Copa America win in 1983.
It seemed like a cruel rehash of incidents from last summer for Gonzalo Higuain and Angel di Maria in particular. The former had missed a glorious opportunity against Germany in 2014 FIFA World Cup final and sidenetted Argentina's best chance of the game last night. Di Maria, on the other hand, once again broke in the finals after a wonderful tournament and had to be substituted in the first half itself.
Jorge Sampaoli's gameplan was almost perfect and Gerardo Martino had no answer to it. Sampaoli started three midfielders Fernandez Silva, Marcelo Diaz and Gary Medel as his centre halves, all of whom had accumulated yellow cards in the first half. A different team and one of them could have been a red, but Argentina just did not have the energy in the second half to put these three out of rhythm. Instead the Argentine midfield themselves ended up getting stretched to the tee.
The work ethic of Charles Aranguiz and Jorge Valdivia was at the heart of Sampaoli's tactical set up as Lionel Messi was completely shut out of the game. The Barcelona man cut an isolated figure and barely created one opportunity in the entire ninety minutes. His inefficiency further had an impact on Sergio Aguero whose involvement was only on the periphery of the game. The Manchester City forward suffered from a lack of service and was eventually withdrawn in favour of Higuain.
Chile, although solid at the back, did not offer much going forward. Their best chances to score came from Alexis Sanchez, but the Javier Mascherano-led Argentine defence dealt with those scares pretty comfortably.
The Argentina players did not do themselves any favours with a lacklustre performance and some uninspired substitutions from Martino rang the death knell. As it was thoroughly displayed in the penalty shootout, the fate of the match eventually came down to determination and will power to win. Chile have been a breath of fresh air, in spite of the controversies surrounding them, in a competition which has barely seen exciting football, with most nations resorting to cautious play.
Unbeaten throughout the tournament, a side which can defeat all kinds of opponents, Chile are the deserving winners of 2015 Copa America.