Chelsea face Napoli in Champions League
Posted on February 21, 2012 by SoccerPunter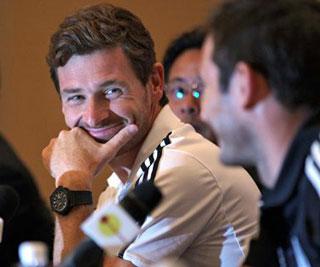 Andre Villas-Boas says he has no fear for his Chelsea future ahead of Tuesday's Champions League second round, first leg clash with Napoli because the culture at the Premier League club is changing.
The Portuguese manager is rumoured to be under pressure amid poor results, including a four-match winless streak, and accounts of dressing-room tensions.
Previous coaches such as Carlo Ancelotti, Felipe Scolari and Avram Grant were not afforded the same patience by Russian owner Roman Abramovich when it came to results. Ancelotti won the double in his first season in charge but following a trophy-less second season he was sent packing.
Scolari lasted only six months as he paid for a poor run that left Chelsea struggling to keep up with Manchester United in the league in 2008/09 while reaching the Champions League final and finishing second in the league the season before wasn't enough to save Grant.
"There's been an obvious tendency in the past for that to happen but with the messages I've received from the club and the board recently, there's a clear indication that there's a change in the way we approach our projects of the future," said Villas-Boas.
"There's great belief in what we're going to do next year and hopefully that will bring us the most trophies it can.
"But that doesn't undermine the responsibilities this year. Speculation is normal based on the cultural past of this club but you have to understand there are different perspectives, and that's now.
"With the full confidence from the owner I will continue to do my job, and that's this year and the next two years.
"You have to understand that this club from 2004 until now has made a dramatic change for the best in terms of its past because it's been the richest part of Chelsea's history.
"It's been full of trophies and success and we want to perpetuate that into the future.
"To do so, sometimes you have to make changes because you can't sustain the same habits as we had in 2004 when all this environment was created into a winning team."
Following Saturday's embarrassing 1-1 draw at home to Championship Birmingham City in the FA Cup, rumours abound that Ivory Coast striker Didier Drogba had given the half-time team talk, supposedly undermining Villas-Boas's authority in the dressing room.
But the powerful striker denied that was the case.
"I want to make clear that the manager made his speech at half-time and after that he's got some leaders in the team and in the squad and we're here to help him," said Drogba.
"After that we were trying to bring the team up at half-time and nothing more.
"We did what the manager wanted us to do and tried to apply what he's saying and nothing more.
"I think people are trying to make a big thing out of nothing."
Looking ahead to Tuesday's game against a Napoli side that has just rediscovered their own form after a tricky spell, Drogba believes Chelsea will once again pull something out of the bag when the chips are down.
"It's an important game like all Champions League games," he said.
"It's one more game we have to win, we've been in a difficult situation in the last few weeks and months but in the past we always found the strength to play these games and win them.
"Like when we were in trouble against Valencia (in the group stages) but we won the game and qualified.
"Tomorrow we have to play a big game and get a good result because the second leg is at Stamford Bridge."
Villas-Boas revealed that both injury doubts John Terry and Ashley Cole would train on Monday night but that the captain was still rated as unlikely, although the left-back should play.