Capello hands England debuts to Carroll and Henderson
Posted on November 17, 2010 by SoccerPunter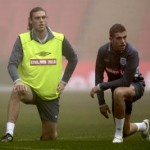 Fabio Capello will hand England debuts to controversial Newcastle striker Andy Carroll and Sunderland midfielder Jordan Henderson in Wednesday's friendly against France, but he will be without Arsenal youngster Jack Wilshere at Wembley.
Capello confirmed on Tuesday that Carroll has been passed fit to start his first international after he returned to training following a groin injury sustained against Fulham on Saturday.
The 21-year-old has been involved in a series of off-field incidents this season that raised questions about whether he should be selected for England, but Capello is keen to see him in action after an impressive start to the Premier League campaign.
Henderson, 20, also has the chance to cement his place in the squad as he gets a debut in the absence of Frank Lampard after some fine displays for Sunderland this season, while Arsenal left-back Kieran Gibbs comes in for injured Chelsea defender Ashley Cole.
"Carroll is ok, he is fit, he will start with the first eleven like Henderson and like Gibbs," Capello said. "They are three young players and it will be very interesting to see them play against a very important team like France.
"I want to see the level of these three players against France. We have to support them if the performance is not okay because to play against the team that will be here on Wednesday in front of 90,000 will be not easy to play.
"I watched Carroll against Arsenal recently. He is strong but also technically he is really good.
"When he receives the ball he has no problems. He is a fighter and his movement is really good. He is an interesting player and he will help the team go forward."
Capello, who played down reports that Everton defender Phil Jagielka would miss the game, was forced to release Wilshere from the squad after the midfielder missed training due to an unspecified injury and could be without Manchester City goalkeeper Joe Hart after he was injured in training on Tuesday.
"Wilshere is going home because he will not be fit for tomorrow. Jagielka has the flu but we think, with strengthening he will be okay for tomorrow," Capello said.
"Hart, the doctor is waiting to decide what really happened but we think it won't be a big problem for him."
Just a year ago Henderson was playing on loan at Coventry and faced an uncertain future at Sunderland, but he impressed Black Cats boss Steve Bruce enough to earn a run in the team and has made the most of his opportunity.
His form this season has been so good that Manchester United boss Sir Alex Ferguson asked Bruce to be kept informed of his development and Capello has decided to fast-track him into the team.
"We monitored Henderson for a long time. He is a really interesting player," Capello said. "His movement is always good, he plays one or two touches maximum. Also he runs a lot and when he has the ball he switches it quickly."