EPL: Black Cats stun Blues at Stamford Bridge
Posted on November 16, 2010 by SoccerPunter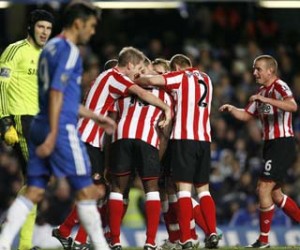 Chelsea's lead at the top of the Premier League was cut to two points after Nedum Onuoha's stunning goal set Sunderland on their way to a shock 3-0 victory at Stamford Bridge on Sunday.
Asamoah Gyan and Danny Welbeck added to Onuoha's effort as Chelsea keeper Petr Cech conceded his first league goals at Stamford Bridge since March and the Blues suffered their heaviest home defeat since April 2002.
Chelsea had suffered the blow of losing captain John Terry to injury the day before the game and the home side's makeshift back four was repeatedly exposed by Sunderland forwards Welbeck and Gyan.
Carlo Ancelotti's team look far from invincible at present and second placed Arsenal will suddenly fancy their chances of taking top spot from the champions sooner rather than later.
Chelsea's preparations for this game had certainly not run smoothly with the build-up dominated by the dismissal of assistant manager Ray Wilkins and another injury to midfielder Frank Lampard.
Wilkins, who has a 37-year association with the club, was unexpectedly removed from his post last week after the board decided that the former England midfielder was no longer the right man for the job.
Then Lampard strained an adductor muscle in training just as he was on the point of returning following a two month absence with hernia and hamstring problems and will now be out until December.
With Michael Essien starting a three-match ban following his midweek red card, Chelsea's midfield options were limited.
And with Sunderland quickly showing they were capable of matching Chelsea in the central area of the pitch, Ancelotti's pre-match warning that his side had no chance of repeating January's 7-2 victory over Steve Bruce's side appeared accurate.
Chelsea still had most of the play early on though and Nicolas Anelka bore down on John Obi Mikel's long pass, only to be narrowly beaten to the ball by visiting keeper Craig Gordon.
Then a minute later, Yuri Zhrikhov waltzed through the Sunderland back four before wastefully pulling his shot across the face of Gordon's goal.
That proved to be a rare spell of pressure from the home side although Sunderland's knack of conceding free kicks in dangerous areas allowed Didier Drogba to twice test Gordon with long range efforts.
The more incisive attacking play, however, came at the other end of the pitch where Welbeck and Gyan repeatedly exposed Chelsea's makeshift central defensive pairing of Branislav Ivanovic and Paulo Ferreira.
Welbeck served the first warning of the visitors' threat with a 35th minute header that Cech did well to push to safety.
And the Chelsea keeper again had to be at his best three minutes later when Welbeck was released by Gyan and fired in a powerful low shot.
Then when Ivanovic bundled over Welbeck with the striker bearing down on goal, it was clear Chelsea were creaking and they had every reason to be grateful the Serb centre back escaped with only a yellow card.
That proved to be only a temporary reprieve, however, as Sunderland finally found a way past Cech immediately before the interval.
Onuoha was the unlikely source of the goal but there was no doubting the quality of the finish as the right back ran past three home defenders before finishing left footed.
Chelsea were caught wide open again when Jordan Henderson celebrated his first England call-up with the decisive pass that allowed Gyan to get between Ivanovic and Ferreira and finish past Cech.
Chelsea's attacking efforts continued to lack conviction and a miserable afternoon was made complete when Ashley Cole's misdirected back pass was intercepted by Welbeck, who scored with three minutes remaining.