Arsenal fans blast Wenger for Arshavin substitution
Posted on January 23, 2012 by SoccerPunter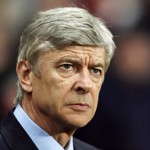 Arsene Wenger was forced to quell talk of a mutiny at Arsenal after his costly mistake led to the Gunners' 2-1 defeat against Manchester United.
The Frenchman made a huge blunder when he decided to send on Russia winger Andrey Arshavin in place of Alex Oxlade-Chamberlain in the closing stages at the Emirates Stadium on Sunday.
A lacklustre first-half performance from Arsenal ended with Antonio Valencia heading United into the lead, but Wenger's injury-hit side gave a far better account of themselves in the second period and equalised when Robin van Persie finished off a move that swept the full length of the pitch.
Arsenal looked capable of snatching a winner at that point but Wenger took the wind out of his team's sails by replacing Oxlade-Chamberlain, who had marked a dynamic first Premier League start by setting up van Persie's goal, with Arshavin. The Russian has infuriated Arsenal fans with his lacklustre displays over the last 18 months and the home supporters responded to the switch with a torrent of abuse for Wenger.
Even Gunners captain van Persie was seen shouting 'No' while gesturing towards his manager as Arshavin came on.
Arshavin then showed Wenger exactly why there was such an angry reaction as his sloppy defending allowed Valencia space to set up Danny Welbeck's 81st minute winner.
This may not have been as humiliating as Arsenal's 8-2 defeat at Old Trafford in August, but the consequences for Wenger could be even more damaging if he is unable to stamp out such open signs of dissent from players and fans alike.
"I can understand that the fans are upset about the substitution, especially when it doesn't work, but he (Oxlade-Chamberlain) had started to fatigue," Wenger said.
"He was sick in the week and Arshavin is captain of the Russia national team.
"You have an 18-year-old kid making his first Premier League start and a player who's captain of his country and they are querying the substitution? Let's be serious.
"I've been a manager for 30 years and have made 50,000 substitutions. I do not have to justify every decision I make to you (the press). I stand up for it.
"People pay for their tickets and express their emotions. We have to deal with that, it doesn't mean they are always right."
Van Persie's frustration should be even more concerning for Wenger.
The Dutch forward's contract expires in 18 months and he has indicated he is in no rush to extend it, so it was no surprise Wenger was coy about how he would deal with van Persie.
"I didn't see that. I do not want to come out on every reaction. I don't have to explain what I will do about this," he said.
"I will not blame one individual. We win together and we lose together. If I made a mistake I am sorry. But it could have happened if Oxlade-Chamberlain had stayed on."
Arsenal have now lost three successive league games for the first time in five years and lie five points behind fourth placed Chelsea with 36 points after 22 games — their worst total at this stage of Wenger's entire 16-year reign.
Wenger now faces the nightmare prospect of missing out on the Champions League places and he acknowledged they are in a tricky situation.
"We had chances to win the game, but this Man Utd team is a bit more mature in every position than we are," Wenger said.
"It leaves us in a very difficult position. It was a game we couldn't afford to lose."
In contrast, United boss Sir Alex Ferguson left north London confident that Premier League leaders Manchester City remain firmly in their sights.
United kicked off six points behind City after their dramtic win over Tottenham, but Welbeck's winner reduced the gap to three.
It was the ideal statement of intent from the champions in the first of a testing run of away fixtures that could decide the destiny of the title.
"I said before the game that we had four massive away games (Arsenal, Chelsea, Tottenham and City) to come and that's one out the way," Ferguson said.
"What we need to do is stay on City's coat-tails. Things can happen and there will be changes before the end of the season."
United are now five points clear of third placed Tottenham and Ferguson believes it is a two-horse title race between the two Manchester clubs.
"Winning after City won their game was the important thing. And we've done it the right way, being adventurous and positive. I'm delighted with that," Ferguson said.
"I think it is going to be hard for both us and City to collapse in the run-in now."