Ancelotti: I would love Gerrard in my team
Posted on November 6, 2010 by SoccerPunter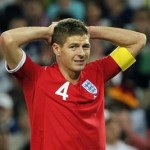 Chelsea boss Carlo Ancelotti admits he would love the chance to manage Liverpool's Steven Gerrard in the future as he prepares to face the Reds captain at Anfield on Sunday.
Gerrard was described by Liverpool's Jamie Carragher as the best player in the club's illustrious history after the England midfielder hit a hat-trick against Napoli in the Europa Cup on Thursday.
Ancelotti also has first-hand experience of Gerrard's brilliance after he sparked Liverpool's dramatic Champions League final victory over AC Milan in 2005.
Chelsea have made several attempts to sign Gerrard in the past, with the midfielder coming close to accepting their advances during the Jose Mourinho era.
When asked if he would ever like to manage Gerrard, Ancelotti said: "Yes, obviously he's one of the best players in the world and I'd like to manage him one time in the future. In the future, eh?"
That kind of comment will hardly endear Ancelotti to under-pressure Liverpool boss Roy Hodgson, but the Blues chief is determined to add to his woes by claiming three points at Anfield this weekend.
And Ancelotti knows stopping Gerrard will be key to Chelsea's chances of maintaining their lead at the top of the table.
"To win there we have to do our best," Ancelotti said. "It's not enough to play at 90 percent. We have to play 100 percent to win there because now Gerrard is in fantastic condition.
"The victory against Napoli was important in improving their confidence, so we have to be ready to fight and stay focused for the whole game.
"Our game against Liverpool at Anfield was the most important game of last season. It was the key to winning the title but we have to play against a different team on Sunday.
"They've changed the manager and have had some problems since the beginning of the season. But they've moved on and won the last three games.
"We have to think they're one of the best teams in England. There will be a fantastic atmosphere and they will have the support of their fans.
"I think Liverpool's bad start is over. But it's good for us to think they've moved on from the bad moment."
Liverpool have not won the league for two decades and their lack of success has baffled Ancelotti.
"I'm surprised," he admitted. "A side able to win the Champions League should be able to win the Premier League. That surprises me.
"Some clubs, like Milan, have more confidence playing in the Champions League with their history than in the Premier League.
"It's difficult explaining, but it's true. Milan were more comfortable in the Champions League. Liverpool have that history and tradition as well, and it's the same."