Van der Vaart leaves Real Madrid to join Tottenham
Posted on September 2, 2010 by SoccerPunter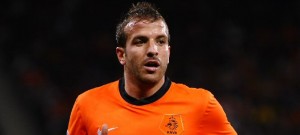 English Premier League club Tottenham were allowed to sign Rafael van der Vaart from Real Madrid on Thursday after their last-ditch move for the Dutch playmaker on deadline day.
Spurs boss Harry Redknapp moved for van der Vaart just two hours before the transfer window closed on Wednesday, causing a frantic scramble to file the paperwork in time, and the north London outfit were left to wait overnight to discover if the Premier League would ratify the deal.
The Premier League had investigated Spurs' claim that they had difficulties with the computer servers used in the transaction between themselves and Real, which hindered their attempts to submit the relevant paperwork on time.
The Premier League said in a statement: "The Premier League can confirm the transfer of Rafael van der Vaart's registration from Real Madrid to Tottenham Hotspur."
Redknapp was finally able to plan for life with van der Vaart on Thursday as the Premier League rubber-stamped the most impressive deadline day coup by an English club.
"We are delighted to announce that we have reached agreement with Real Madrid for the transfer of Rafael Van der Vaart," a statement on Tottenham's website confirmed.
Van der Vaart has won 83 caps for Holland, scoring 16 goals, and has played in two European Championships and two World Cups, including this year's tournament in South Africa where he featured five times in his side's run to the final.
The 27-year-old was available at a cut-price rate after new Real Madrid manager Jose Mourinho decided to cash in on a player who would have struggled to win a first-team place ahead of the likes of Kaka, Mesut Ozil and Cristiano Ronaldo.
Redknapp believes he has landed a bargain and, speaking before the move was completed, he said: "He is available now for about eight million. He is a quality player. He is a Dutch international and a great footballer.
"For that sort of money, he is a top player and he will improve us for sure. It's a last minute job."
On the attributes Van der Vaart will bring to Tottenham, Redknapp said: "He is a great passer of the ball, he is a top footballer. He will join in here and play the way we like to play, he would be a big plus for us."
"Four years at Spurs, for €11 million, I can hardly believe it myself," Van der Vaart told De Telegraaf. "It's a pity I cannot now play against Ajax in the Champions League but I will get to face FC Twente."
The speed of a deal came as a surprise to the player, who said: "The interest from Tottenham came very quick and I did not have much time to think. But I want to play football again and if possible every week, with a beautiful club. I 'm totally happy."
Van der Vaart has played in the Netherlands, Germany and Spain and is now looking forward to a new chapter in his career.
"I am excited about playing in England. Whether it suits my style remains to be seen, but I think a good footballer can adapt and I am very proud of this transfer."
SoccerPunter believes that Van der Vaart will be a valuable asset to Tottenham Hotspur and with his vast experience in European compeitions, he will provide more attacking capabilities to the London side.