UEFA ban Wenger for two-match after phone row
Posted on August 23, 2011 by SoccerPunter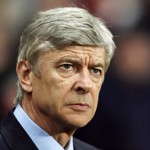 Arsenal
manager Arsene Wenger has been handed a two-match touchline ban by UEFA after being found guilty of ignoring rules on communicating with his bench during last week's
Champions League
clash against
Udinese
.
Wenger has paid the price for flouting UEFA's guidelines over speaking to assistants while serving a suspension and will now be forced to watch from the stands when the Gunners face Udinese in the decisive second leg of their play-off tie in Italy on Wednesday.
Arsenal have a slender 1-0 lead from the first leg and the absence of their manager is a significant blow to their hopes of making the lucrative group stages of Europe's elite club competition.
Wenger had been forced to watch the first leg from the Emirates Stadium stands as he served a one-match touchline ban for abusing Swiss referee Massimo Busacca in the aftermath of last season's stormy Champions League defeat at Barcelona.
However, the Frenchman believed he was still free to communicate with assistant Pat Rice by passing messages to first-team coach Boro Primorac, who was seated next to the Gunners chief and then phoned the information down to the bench.
The trio did exactly that throughout the first half but television pictures showed the rather blatant nature of the plan and UEFA, keen not to be embarrassed, warned Wenger at the break that he was contravening the rules and he withdrew from communication.
UEFA decided that Wenger deserved further punishment for his actions and hit him with a fine that would extend to the opening match of the Champions League or Europa League group stages, depending which competition the Gunners end up in.
"Arsenal FC manager Arsene Wenger has received a two-match ban from the UEFA Control and Disciplinary Body which will take effect for Wednesday's play-off game at Udinese Calcio," read a statement on UEFA's website on Monday.
"Today's decision was taken in relation to the Arsenal manager not abiding by the decision of the Control and Disciplinary Body during the English club's UEFA Champions League play-off game against Udinese Calcio last Tuesday, 16 August.
"The UEFA Disciplinary Regulations stipulate that a manager may not communicate with his team during a fixture for which he is suspended and may follow the game from the stands only."
"Wenger is therefore suspended for Arsenal's second-leg match against Udinese in Italy on Wednesday and then the next UEFA competition fixture for which he would be eligible.
"The Control and Disciplinary Body has also decided to fine Arsenal 10,000 euros for improper conduct by its officials."
Arsenal immediately announced their intention to appeal against both the suspension and the fine, with a short statement on the club's website reading: "Arsenal Football Club intends to appeal this decision".