Tony Fernandes takeover Queens Park Rangers
Posted on August 19, 2011 by SoccerPunter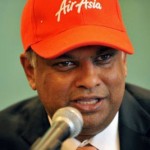 Malaysian tycoon Tony Fernandes has completed his takeover of
Queens Park Rangers
, the newly-promoted
English Premier League
club confirmed on Thursday.
Fernandes, the owner of budget airline AirAsia, secured his buyout after assuming a 66 percent stake in the newly promoted West London outfit from previous shareholders Bernie Ecclestone and Flavio Briatore.
In a statement, the 47-year-old entrepreneur, who is also the team principal of Formula One's Team Lotus, said he will work alongside the Mittal family, who have retained their 33 percent stake in the club.
Fernandes, who describes himself as a West Ham fan on his Twitter feed, said he had long held a "soft spot" for QPR, which he described as a "raw diamond."
"Everyone knows I've followed West Ham all my life, but I've always had a soft spot for QPR," Fernandes said.
"Rangers were one of the first teams I watched as a child at Loftus Road.
"I've always wanted to be involved in football and the appeal of a London Club, like QPR, was too good an opportunity to turn down.
"QPR is a raw diamond and hopefully I can contribute into turning it into a diamond."
Formula One chief Ecclestone had been the majority owner of QPR for the past five years but had repeatedly signalled his willingness to sell his stake in recent months despite the club's elevation to the English top-flight.
The uncertainty over QPR's ownership had dogged their build-up to the campaign, leading to speculation that manager Neil Warnock's position may be under threat.
Doubts over Warnock's future at Loftus Road are expected to recede however after Fernandes arrival, which will also see the return to the board of vice-chairman Amit Bhatia, a key Warnock ally.
"It was a very difficult decision to resign from the board when I did, so I'm thrilled to be back and would like to thank all those who supported me and my family and look forward to serving the club to the best of my abilities again," Bhatia said on Thursday.
"Tony and I will work alongside each other to try and make this season as exciting and successful as possible. I love this Club and this is a very happy day for me."
Rangers were thrashed 4-0 by Bolton in their opening Premier League game on Saturday, prompting angry chants from sections of the crowd over the club's failure to make transfer funds available to Warnock.
Fernandes, whose personal fortune was put at $330 million by Forbes magazine last year, has reportedly signalled his willingness to bankroll increased transfer spending before the closure of the August window.
West Ham and England £8million-valued midfielder Scott Parker is reportedly at the top of Fernandes' shopping list.
Fernandes warned on Thursday however that his ambitions for QPR would be realistic.
"I could easily say we're going to win the Champions League and the Premier League, but that's really not my style. I don't want to make big promises I can't guarantee," Fernandes said.
"I want the fans to be proud of what we're doing and be involved as much as we can. The fans pay good money and are stakeholders, so whatever we do, I want the fans to be proud. We'll do it in style and with integrity."