Today Big Match: Manchester United vs Liverpool
Posted on February 11, 2012 by SoccerPunter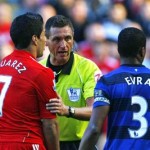 Sir Alex Ferguson has insisted Manchester United will "keep their dignity" when they face Liverpool in a potentially fiery Premier League game at Old Trafford on Saturday.
The latest match between the bitter rivals is set to be the first time Liverpool striker Luis Suarez will come face-to-face with Patrice Evra since the Uruguay international was hit with an eight-game ban for racially abusing the United defender in a game at Anfield in October.
Suarez only returned from the ban on Monday when he appeared as a substitute in Liverpool's goalless league draw at home to Tottenham Hotspur. After the match, Liverpool manager Kenny Dalglish fanned the flames of controversy by saying Suarez should never have served a ban at all.
"It's fantastic to have him back. He should never have been out in the first place," said Dalglish.
Ferguson, asked at a press conference in Manchester on Friday whether he was content with the way Liverpool had handled the matter, replied: "Well, they've said plenty haven't they?
"We've kept our counsel and I think that is the right thing to do in these situations. We'll keep it that way too."
Ferguson also played down the pre-match handshake between Evra and Suarez – a gesture abandoned when Chelsea played QPR last month in their first meeting since Chelsea skipper John Terry was accused of racially abusing QPR's Anton Ferdinand, brother of United's Rio.
"I've never really thought about it," Ferguson added when asked whether he had spoken to Evra about the pre-match pleasantries.
"I'm not really bothered about it. It's never been an issue because we've been concentrating on training, and this week it's been really good.
"We are chasing the league and Liverpool are chasing a Champions League place. It's an important game for both clubs. We'll just get on with our job.
"We've kept our dignity throughout and we'll just concentrate on the game."
Reigning Premier League champions United head into the weekend two points behind leaders Manchester City.
But Ferguson's side will go top if they avenge their FA Cup exit at the hands of Liverpool two weeks ago as City are not in action again until Sunday at mid-table Aston Villa.
United defender Chris Smalling is in line to return after recovering from a knock while midfielder Tom Cleverley could also feature for the first time since the end of October after recovering from a damaged ankle.
Ferguson was pleased with his team's fighting spirit after coming from 3-0 behind to salvage a point in a 3-3 draw at Chelsea last week.
But United have only kept two clean sheets in eight games, and the Scot admitted he is worried by the amount of sloppy goals his side are conceding.
"Our performances over the last few weeks have been good," he said. "But we gave two soft goals against Liverpool in the FA Cup and that shouldn't be happening at this club.
"Against Liverpool in the Cup we dominated the game. It wasn't a fair result but the Cup can produce things like that. It happens. We conceded a goal towards the end and when it's sudden death, you're out."