Tevez fail to turn up for training at Manchester City
Posted on November 10, 2011 by SoccerPunter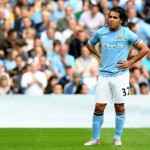 Manchester City striker Carlos Tevez could face further disciplinary action from the English Premier League club after failing to report for training on Wednesday.
The 27-year-old is reported to have flown to Argentina earlier this week but had been due to return to Manchester on Wednesday. City officials however confirmed that Tevez had not appeared at the club's complex.
City last month fined Tevez four weeks' wages — later reduced to two — for five breaches of contract relating to his behaviour during the club's 2-0 defeat at Bayern Munich on September 27. Tevez had been accused of refusing to appear as a substitute but the player denied those claims, insisting he had only declined a request to warm-up on the grounds that he had already done so.
City manager Roberto Mancini vowed Tevez was "finished" at the club but recent reports in England and Italy have suggested the Argentinian may continue to play at Eastlands if he apologises to his team-mates.
Tevez's latest apparent defiance of City prompted dismay from Gordon Taylor, the head of the main players union in England, the Professional Footballers Association (PFA).
Taylor, whose organisation had helped Tevez cut his fine from four weeks wages to two weeks last month, expressed concern that the Argentinian was leaving himself vulnerable to further action by City.
"I believe there is going to be more trouble than peace in this situation," Taylor told Sky Sports. "I do feel very disappointed to say the least.
"Now he's left in a position that becomes very vulnerable. His advisors must be wondering 'where do we go from here?'"
Asked if Tevez had burnt his bridges with City and the PFA, Taylor replied: "I don't cut off anything with my players even when they're in the wrong."
But he added: "On the other hand, I have to advise him that at the moment he's just not doing himself any good at all.
"And he's leaving himself very vulnerable to action by the club and that could be very serious sanctions coming so soon after the last problem.
"From that point of view, the lad is digging himself a hole that is going deeper. And it's a worry to me how we can now get out of this."