Super Kelong Tips accurately predicted Chelsea downfall
Posted on October 24, 2011 by SoccerPunter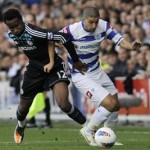 Heidur Helguson's first half penalty secured QPR's first home win of the English Premier League season against a Chelsea side reduced to nine men by the first half dismissals of Jose Bosingwa and Didier Drogba on Sunday.
Bosingwa was dismissed in the 33rd minute for a foul on Shaun Wright-Phillips while Drogba walked after a 41st minute lunge on Adel Taarabt in an explosive west London derby.
Having already fallen behind to Helguson's ninth minute spot-kick, Chelsea were unable to force an equaliser and remain third, six points behind leaders Manchester City, after their second Premier League defeat under Andre Villas-Boas.
Super Kelong Tips issued a prediction on QPR (+1.5) based on Asian Handicap Betting.
The Blues fought gamely with nine men but QPR held on to savour a first win over their near neighbours since 1995.
As memorable as the victory was for QPR, it was impossible to escape the fact that Chelsea had triggered their own downfall.
Manchester City's 6-1 victory over Manchester United earlier in the day meant Villas-Boas knew his side would move second if they secured victory at Loftus Road.
The first sign that the derby would go QPR's way came when Helguson chased a long ball into the Chelsea area and David Luiz found himself unable to resist the temptation to push the forward instead of shepherding him to safety.
The force applied was minimal and the QPR striker was quick to go down, but there was enough contact to allow referee Chris Foy to point to the penalty spot and, after claiming the ball from Taarabt, Helguson converted from 12 yards.
Worse was to come when Bosingwa was sent off in the 33rd minute. Taarabt released Shaun Wright-Phillips to run behind the Chelsea backline from near the halfway and, beaten for pace, Bosingwa attempted to halt the winger's run by tugging at his shirt.
Foy decided it was both a foul and that Bosingwa had denied a goal scoring opportunity, although Chelsea claimed there were covering defenders to no avail.
The last thing the visitors then needed was for someone else to lose their head.
Unfortunately for them Drogba was unable to rein in his frustration and after once again conceding possession, the forward attempted to recover his mistake with an ugly two-footed lunge on Taarabt.
Foy's reaction was immediate and with just 41 minutes gone, Chelsea were down to nine men.
Chelsea responded well with Frank Lampard coming close with a header immediately after the restart, serving notice they were still in the game.
Inevitably openings appeared within the Chelsea defence and had QPR showed more composure in front of goal, they could have made the game safe from one of a number of breakaways.
Joey Barton fired wide and Taarabt was denied by a John Obi Mikel challenge but the best opportunity was squandered by Helguson who volleyed over from close range with 13 minutes remaining.
A goal then would have spared home nerves during the frantic final few minutes when Chelsea again came close to claiming an equaliser when Nicolas Anelka headed straight at Paddy Kenny from close range.
But QPR held on to move into the top half of the table while Chelsea were left to count the cost of losing their heads in the first half.
English Premier League results:
Arsenal 3 Stoke 1
Blackburn 1 Tottenham 2
Fulham 1 Everton 3
Manchester Utd 1 Manchester City 6
QPR 1 Chelsea 0