Sir Alex plays down Man Utd treble opportunities
Posted on April 2, 2011 by SoccerPunter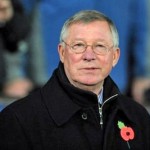 Sir Alex Ferguson has played down Manchester United's chances of emulating their 1999 treble as his injury-hit team resume their quest for a record 19th title.
The Premier League leaders travel to in-form West Ham on Saturday leading second-placed Arsenal by a healthy five points with only eight games remaining, although the Gunners have a game in hand.
But April promises to present Ferguson's squad with their toughest test of the season so far, with a heavyweight Champions League quarter-final against Chelsea looming before an FA Cup semi-final with Manchester City.
The demanding fixture list comes as Ferguson attempts to manage an injury crisis which has wreaked havoc with his defensive options.
Although Ferguson hopes to have captain Nemanja Vidic back for Saturday's trip to Upton Park, Rio Ferdinand remains sidelined with a calf injury along with Rafael (hamstring), John O'Shea (hamstring) and Jonny Evans (suspended).
While Ferguson believes his squad are capable of repeating the club's historic treble, the injury crisis will make it a tall order.
"It is going to be more difficult than it was in 1999," Ferguson said. "We didn't have the injuries we do now. There is a great desire to do it but we have so many injuries to defenders at present.
"We will never give in, though. No matter what happens, you always feel Manchester United will score in the last minute.
"We must have a chance but it is more difficult than it has ever been."
Ferguson, who is serving a five-match ban for his rant against referee Martin Atkinson, insists his criticisms were justified.
"I think the last few games we've had terrible decisions against us and you've just got to be careful you don't have paranoia about it," Ferguson said.
But while Ferguson juggles his resources, Arsenal boss Arsene Wenger will welcome back an array of first-team players as they prepare to entertain struggling Blackburn at the Emirates.
Cesc Fabregas, Alex Song, Theo Walcott and Abou Diaby are all fit after missing the 2-2 draw with West Brom two weeks ago.
Wenger is also hopeful that Robin van Persie, Nicklas Bendtner and Aaron Ramsey will all shake off minor knocks in time.
Wenger has been keen to emphasise that the destiny of the title remains in
Arsenal's hands despite consecutive draws that have prevented them from overtaking United at top.
Victory in all of the Gunners remaining matches – which includes a fixture
against United at the Emirates on May 1 – would give Arsenal the title.
"I am confident the consistency at the end of the season will be rewarded, so let's focus on keeping our run going and winning our next game," said Wenger, whose men have not lost in the league since December 13.
"Things can change very quickly, and what is important for us is to get back winning, which is what our squad needs at the moment."
Chelsea's remote hopes of overhauling United leave them needing to take all three points off Stoke at the Britannia on Saturday, while the race for the fourth Champions League qualifying place sees Spurs travel to bottom club Wigan on Saturday while Manchester City entertain Sunderland on Sunday.
Elsewhere, Roy Hodgson has the chance to halt Liverpool's recent resurgence as West Bromwich Albion take on his former club at the Hawthorns.
However, Liverpool boss Kenny Dalglish has rejected suggestions Hodgson will have extra motivation to beat the club which fired him in January after only six months in charge.
"Roy hasn't got anything to prove to anybody," Dalglish said. "If you say he has extra motivation then you are doubting the man's integrity and implying he never had enough motivation before.
"It's Liverpool versus West Brom and we'll face a team that has been prepared by Roy. I don't have a problem with that."