Sir Alex insists Scholes is an asset for Manchester United
Posted on January 14, 2012 by SoccerPunter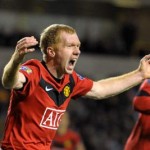 Manchester United manager Sir Alex Ferguson has defended his decision to recall Paul Scholes out of retirement after suggestions the 37 year old's return was a "regressive" step for his side.
Ferguson, who kept the news from his players, brought Scholes back for last weekend's FA Cup win over Manchester City and the former England midfielder came off the bench as United completed a 3-2 win over their local rivals.
For midfielder Darron Gibson it was the final straw and Friday saw the 24-year-old Republic of Ireland international complete a move to the champions' English Premier League rivals Everton in the hope of more regular first-team football. But veteran manager Ferguson had no doubts about the value of having Scholes back in his squad.
"There were no negatives as far as I was concerned," Ferguson said in a interview with the League Managers' Association.
"One or two people have been negative. They're making out it's been a 'regressive step' for Manchester United.
"How can it be regressive? You're getting a player for nothing who's been part of the club for 20-odd years.
"He's not going to play every game but in terms of composure and passing ability, is there a better player going around? Definitely not."
For Ferguson a much bigger problem was keeping the news of Scholes' impending return a secret.
"I don't know how we managed it," he said. "We registered him on the Friday, and thought somehow it would get out.
"But we didn't let any of the players know simply because of the impact value.
"We were going away from home in a very difficult FA Cup tie against City.
"We had 5,000 fans at that end of the ground and as soon as they knew his name was on the team sheet they were fantastic, there was a great response."
Scholes' professionalism and avoidance of any off-field limelight made him a manager's dream but Ferguson said the presence of growing entourages around increasingly young players was making life more difficult for rising stars.
"What you have to do is (ensure your players) understand how fragile that celebrity status can be," said Ferguson.
"One minute you're a star, the next minute you're not. Dealing with success is a bit more difficult today, because of television and the headlines they can get. So you do a lot of work with them to keep their feet on the ground.
"I say to them all the time: 'Go back to your mother the same person you were when you arrived. That's important, because I'm sure your mother doesn't like to see you change'. And we don't like to see them change either."
Several of Ferguson's former players have since followed in his footsteps by becoming managers and he has been particularly impressed by Ole Gunnar Solskjaer, who ended his first season at Molde by taking the club to the Norwegian title.
"Ole was one of these professionals who used to take down all the notes of the training sessions and games," said Ferguson.
"He's got an inner toughness, no doubt about that. Ole is a nice one. He's got a lovely manner about him.
"But if you go to a club like that (Molde) in Norway that has never won the league in their history and you win the league, you have to have something about you to do that."