Sir Alex gets five-match ban over referee rant
Posted on March 17, 2011 by SoccerPunter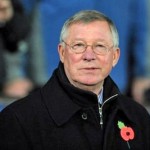 Manchester United manager Sir Alex Ferguson has been banned for five matches following his tirade against referee Martin Atkinson, the Football Association announced on Wednesday.
Ferguson landed in hot water with the FA after blasting Atkinson's performance in the Red Devils' 2-1 defeat against Chelsea at Stamford Bridge earlier this month.
The United manager ignored advice from his club's legal department and vowed to contest charges of improper conduct, but has now been hit by a hefty ban as his team enter a critical phase of the season.

Ferguson had appeared to question Atkinson's integrity when he stated that he had wanted a "fair referee" to control the match with Chelsea.
"You want a fair referee, or a strong referee anyway – and we didn't get that," said Ferguson in the aftermath of the defeat.
"I must say, when I saw who the referee was I feared it. I feared the worst," added Ferguson, who was incensed by Atkinson's failure to show a red card to Chelsea defender David Luiz.
The FA deemed Ferguson's criticism had gone too far.
"At an independent regulatory commission today (Wednesday) Sir Alex Ferguson was handed a touchline suspension for three matches and fined a total of 30,000 pounds," said an FA statement.
"The commission found the charge of improper conduct relating to media comments proven, following remarks made in relation to match official Martin Atkinson in post-match interviews after Manchester United's fixture with Chelsea at Stamford Bridge on Tuesday March 1, 2011.
"Furthermore the commission invoked a two-match suspended touchline ban, relating to a previous charge of improper conduct in relation to media comments made in October 2009.
"Therefore Sir Alex Ferguson was ordered to a serve a five-match touchline ban commencing on Tuesday March 22, 2011."
The enactment of Ferguson's suspended sentence means the United boss will be barred from the touchline for United's FA Cup semi-final with Manchester City.
Ferguson, who has 48 hours to lodge an appeal, said last weekend that he was confident of successfully defending himself for comments which he regarded as fair criticism.
"I will be defending myself strongly when my FA appeal hearing comes up," Ferguson said.
"In fact, I am looking forward to the challenge because, to my mind, I have not said anything out of place, however much the media urge the FA to take action."