Sir Alex Ferguson hails Man Utd veteran Ryan Giggs
Posted on April 13, 2011 by SoccerPunter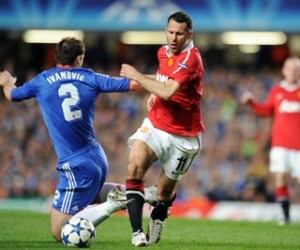 Sir Alex Ferguson paid tribute to Ryan Giggs after the evergreen Manchester United midfielder helped shatter Chelsea's Champions League dream.
Thirty-seven-year-old Giggs, who was instrumental in creating Wayne Rooney's decisive goal in the first-leg victory at Stamford Bridge, took centre-stage once more at Old Trafford on Tuesday as United won 2-1 on the night, 3-1 overall.
The veteran provided Javier Hernandez with the cross which made it 1-0 just before half-time, and then produced an exquisite pass to Park Ji-Sung which snuffed out Chelsea's hopes of a fightback after Didier Drogba equalised.
Ferguson heaped praise on Giggs after another match-winning contribution from the Welshman, who made his senior debut for United as a wiry teenager just over 20 years ago.
"Well we've said it so many times about the man," Ferguson said of Giggs. "He's just incredible, a unique person and player.
"And his contribution was big. The goal in the first game, the first goal tonight and his part in the second goal.
"It's a great contribution and his experience and composure were vital."
Ferguson said Giggs owed his extraordinary longevity to his physique and sense of balance.
"He's lucky in the sense that he's got the physique that doesn't carry any weight," Ferguson said. "He's also got fantastic balance, he's never lost that. That's always been a great part of his assets — wonderful balance.
"And he looks after himself, he has to. To get to 37 years of age there must be a tremendous sacrifice to do that."
Giggs meanwhile played down the extent of his own contribution with typical modesty, saying the key to the game had been United's goalscoring response — less than a minute — to Drogba's equaliser.
"Chelsea gave us a great game but you're always pleased to get into the semi-finals," Giggs said.
"We expected them to come at us, they needed to score, we knew we needed to try to score too, to take the pressure off us.
"I think we deserved it, we played well down there, had a good gameplan and stuck to it and tonight got a couple of great goals.
"The second goal came at exactly the right time, they had just scored, so us scoring so quickly really knocked the stuffing out of them."
Ferguson meanwhile could also reflect on another scintillating display from Wayne Rooney, the England striker who appears to finally be hitting peak form after enduring a prolonged slump.
Rooney, who had threatened to quit Old Trafford earlier this season following a dispute with Ferguson over the club's perceived lack of ambition, was at the heart of United's best work, dropping deep to cause problems for Chelsea's defence with his movement and passing.
"I think for quite a while he's been playing very well," Ferguson said of Rooney. "He's enjoying the position he's playing in at the moment. It gives him a lot of freedom to use his energy."
"He played to his maximum. He was outstanding in the first game and tonight he did his job right."
Ferguson said he expects United to face Bundesliga outfit Schalke 04 in the semi-finals, where the reward will be a Wembley final against either Real Madrid or Barcelona.
Ferguson acknowledged that United's record against German sides — with the exception of the 1999 final against Bayern Munich — was poor.
"But we can make that change," he said. "You see the momentum we've got at the moment. Momentum's a great thing. Everyone's desperate to play in every game now. The bonus I've got is that all my players are getting fit.
"I think we've hit our form. It's a great moment. The players are relishing the challenges."