Schalke sack coach Magath despite reaching quarter finals
Posted on March 17, 2011 by SoccerPunter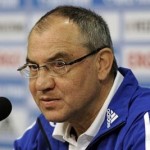 Champions League quarter-finalists Schalke sacked coach Felix Magath on Wednesday in an acrimonious split following a crisis meeting of the German club's board.
"We made revisions and found things are not as we need them to be," said the Schalke chairman, Clemens Toennies.
Having won the Bundesliga title with both Wolfsburg and Bayern Munich, Magath has been dismissed from his role as both coach and manager of the club with ex-Hoffenheim coach Ralf Rangnick reported to be favourite to take over.
Magath's assistant Seppo Eichkorn took training on Wednesday.
A legal battle now looms, with Magath set to take his former employers to court to try to claim back 12 million euros ($16.5 million) of lost earnings following the termination of a contract that had been due to run until 2013.
"Mr Magath has used his unfair and invalid sacking by the board as justification to cancel his contract with immediate effect," said his spokesman, Ralf Hoecker, a few hours after Schalke announced the sacking.
A breakdown in the relationship with his players – team members complained of Magath's conduct to Toennies – and over-spending are rumoured to be the reasons for Magath's dismissal.
Toennies refused to divulge the reasons behind the sacking, but admitted legal action was pending.
"From Schalke's point of view, there are very good reasons for the separation," he said.
"We will not communicate them in the general public, because of a legal battle ahead. We are waiting calmly for this to happen."
The Schalke chairman had heralded Magath's arrival in 2009 when he joined the Royal Blues after guiding Wolfsburg to the Bundesliga title, but nearly two years later, much has changed.
"I have always stood by Felix Magath, even when the results weren't good," said Toennies.
"But then there came a key experience, which turned me through 180 degrees."
The 57-year-old Magath had been under a cloud since reports of his imminent dismissal broke in the German media last Wednesday, the same day his side reached the last eight of the Champions League by beating Valencia 3-1 at home.
But the Royal Blues have struggled in the Bundesliga this season, are 10th in the table and will discover their Champions League quarter-final opponents in Friday's draw without a head coach.
Schalke play at second-placed Bayer Leverkusen on Sunday in the Bundesliga.