Roy Hodgson becomes England new manager
Posted on May 2, 2012 by SoccerPunter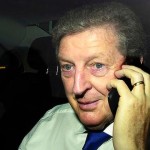 Roy Hodgson was appointed England manager on a four-year contract, the Football Association announced on Tuesday.
The West Bromwich Albion boss emerged as the surprise front-runner for the England job on Sunday as the FA confirmed it had ignored the popular clamour for Tottenham Hotspur manager Harry Redknapp to be appointed.
"It is a very proud day for me, I'm a very happy man to be offered the chance to manage my country," Hodgson told reporters at a Wembley press conference. "I'm looking forward to the task ahead. Everyone knows it is not an easy one but I'm hoping that everyone, fans and supporters will get behind the team.
"It's the team that counts, they go out and win football matches.
"What I'll do is try to make sure the team is well prepared for the challenge ahead. I'm really looking forward to it."
Hodgson had held around four hours of discussions with senior FA officials at Wembley on Monday, paving the way for the 64-year-old's appointment to the most demanding role in English football.
Since Italian coach Fabio Capello resigned as England manager in February, in protest at the FA's decision to strip John Terry of the England captaincy, Stuart Pearce has been in caretaker charge of the national side.
That is despite the former England defender also being the manager of England's Under-21s and the British Olympic team.
Concerns have been raised about the FA's 'delay' in getting a permanent manager on board so close to the European Championships in Poland and Ukraine, where England begin the tournament against France in Donetsk on June 11.
Hodgson's first game as England manager will be the warm-up match away to Norway in Oslo on May 26.
That is followed by another friendly, with Belgium at Wembley on June 2, before their Euro 2012 opener.
Hodgson admitted he had little time to acclimatise to his new job before Euro 2012. "It's going to be difficult of course but hopefully I've got time. Obviously I've been working here for the last five years so the players are pretty well known to me even though I haven't worked with them all," he said.
"I've done as much research and spoken to as many people as I can."
Hodgson meanwhile would not be drawn on some of the thorny selection issues he is likely to face, such as whether his Euro 2012 squad would include John Terry and Rio Ferdinand. Terry has denied criminal charges of racially abusing Ferdinand's younger brother Anton.
Hodgson also declined to speculate on whether he was likely to reappoint Liverpool's Steven Gerrard to the England captaincy.
But Hodgson refused to write off England's prospects at the Euros.
"England always have to go in tournaments to win them because we are a major football nation," Hodgson said.
"I certainly think the players would be very disappointed if we expected anything less of them than to win the tournament."
The FA statement said Hodgson would see out the current Premier League campaign with West Brom, who have two games left to play.
"Roy's appointment as England manager is obviously disappointing news for the club as we would have liked him to sign a new contract, which was in the process of negotiation, and remain as our head coach," Baggies chairman Jeremy Peace said.
"But we understand Roy's desire to take the England job and he will leave us after the Arsenal game on May 13 with our best wishes."