Ronaldo says Kaka improving but not 100% fit
Posted on January 20, 2011 by SoccerPunter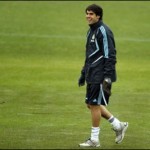 Real Madrid's Brazilian midfielder Kaka is improving after knee surgery but is not yet 100 percent fit, striker Cristiano Ronaldo said in an interview published Wednesday.
"Kaka is getting better. He is still not 100 percent, he has to carry on improving, gradually playing more," Ronaldo said in an interview with sports daily Marca.
"He will get back to the competitive level he had before, with a bit more difficulty, the same as anyone who has had an operation and a serious injury," he said.
Kaka, 28, underwent surgery on his left knee on August 5 and only returned to training last month.
Ronaldo said Kaka was working hard to get back.
"I am sure he will triumph," he added.
"If he does not have any more injuries he will be very important for us because he is still a star."
Ronaldo rejected as unfair criticism that French striker Karim Benzema had failed to take advantage of the absence of his injured Argentine teammate Gonzalo Higuain, who could be out for four months.
"My sincere opinion is that Benzema does not deserve the things they are saying about him. If you analyse his last games you can see that he is making an effort, he is fighting. Sometimes things don't work out, just like goals, but Karim has enormous footballing value."
Ronaldo also urged Real Madrid chairman Florentino Perez to stump up more money to renew Portuguese international Pepe's contract.
"If I were Florentino it would already be renewed. Today. I would call him up: 'Hi, Pepe, come on over, let's renew now," he said.
"I think he is a phenomenal player who has to be with Real Madrid, not just because he is my friend but because he is a world class player," he added. "It is a question of paying a bit more money and signing, that's it."
Asked whether Pepe was asking for a considerable increase to renew his contract, which runs out in 2012, Ronaldo said: "No, that is what you think. He is asking for what he deserves."
On his own ambition, Ronaldo was asked if he still wanted to become the best footballer in history.
"I am still working to be that, and at the end of my career is when people will be able to make a judgement," he said.
"In my head I believe I might or might not achieve it, but I try to think positively and always play the best I can so that when I retire people can value me and I can have a solid career. Otherwise, I would not be doing anything in football."