Ronaldo: Real Madrid does not need Neymar or Adebayor
Posted on August 4, 2011 by SoccerPunter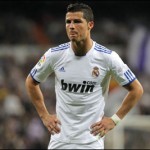 Cristiano Ronaldo on Tuesday dismissed Emmanuel Adebayor's hopes of returning to
Real Madrid
, saying the Spanish giants did not need the unsettled
Manchester City
striker.
Adebayor, 27, appears to have no future at City under boss Roberto Mancini and has made it clear that he favours a return to the Spanish capital, where he went on loan last season.
But flying winger Ronaldo, speaking in the southern Chinese city of Guangzhou, where Real are on a pre-season tour, said: "I don't think that we need to sign another forward. We are happy with the line-up as it is already."
Real, who were again runners-up to fierce rivals Barcelona in La Liga last season, have added Spanish midfielder-striker Jose Maria Callejon to their already hugely impressive array of attacking talent.
They also have French striker Karim Benzema, who has enjoyed a free-scoring pre-season but whose Real career has failed to take off so far, and the prolific Argentine Gonzalo Higuain.
Real coach Jose Mourinho, who has kept a low profile in China so far, last month said he was looking to bring in another forward, but Adebayor – who has
also been linked with Spurs and Bayern Munich – has remained at City.
Former Manchester United star Ronaldo said it was vital to beat Barcelona when the old foes clash in the two-legged Spanish Super Cup later this month.
"It's an important match because it's the beginning of the season so we want to start well — it could give us vital impetus to the campaign," the 26-year-old Portuguese star said.
Chinese journalists tried to press him on fatherhood, with one reporter asking him if he ever changed his baby son's nappies.
"Of course, as a father it is normal to change the baby's nappies," an unamused Ronaldo replied in English.
And asked if he might ever return to United or English football, he said simply: "Maybe, why not? You never know."
Real take on local side Guangzhou Evergrande on Wednesday before heading to the city of Tianjin, close to Beijing.