Real Madrid sack Jorge Valdano
Posted on May 26, 2011 by SoccerPunter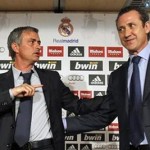 Real Madrid
president Florentino Perez said on Wednesday that the
Spanish club
was terminating the position of director general occupied by Jorge Valdano to give coach Jose Mourinho more autonomy.
"I want to stress how painful the departure of Jorge Valdano is to me. We have travelled a long distance together," he told a press conference.
Valdano has had a rocky relationship with Mourinho but Perez dismissed media reports that the Portuguese coach had demanded the former Argentine international be dismissed as a condition for his staying on at the club.
"Mourinho did not make any demands. He asked for more autonomy in line with how English clubs are organised," Perez said.
"Everything that we do we do because they are the right decisions that do not take into account personal sentiment," he added.
Valdano reportedly opposed the appointment of Mourinho in May 2010 but was overruled by Perez, who believed the Portuguese coach had what it takes to end Barcelona's domination.
He had a long record of criticising Mourinho's style of football in his newspaper columns and television, even long before the Portuguese manager took the reins at the Bernabeu.
In 2008 Valdano wrote that "Mourinho has a flitting charisma that doesn't really know what it represents.
In January Valdano angered Mourinho by appearing to question the coach's decision to leave French striker Karim Benzema on the bench during Real's 1-1 draw at Almeria.
"I hope Benzema does not stay on the bench for too long. The situation surrounding him is unfair," he said at the time.
When asked about Valdano's comments, Mourinho shot back: "I pick the team and if I need any help then I have my coaching staff."
Sports daily El Mundo Deportivo reported earlier this month that Valdano, 55, wanted to leave Real because he found working with Mourinho, 48, difficult and has been frustrated by his lack of access to the first team.
Real would have to pay the Argentine 5.1 million euros in severance pay for the termination of the remaining two years of his contract, it added.
Perez refused to comment when asked how much Valdano's departure would cost the club.
Valdano is a key figure in Real's recent history, having been a striker in the 1980s and coach of the club's first team in the 1990s, winning the 1994-95 league title.
He served as sporting director under Perez between 2000 and 2004. He returned to Real to occupy the post of director general in June 2009.
Nicknamed "The Philosopher of Football", he was part of the Argentine squad that won the 1986 World Cup.