Raul decides to quit Schalke 04
Posted on April 20, 2012 by SoccerPunter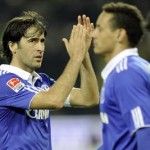 Spanish veteran striker Raul is to quit German Bundesliga side Schalke 04 at the end of the season after two years with the club which he joined after more than a decade of trophy-laden years at Real Madrid, Schalke said on their website.
At a press conference Raul explained he was eying new horizons.
"My future is not in Europe," he explained. Without saying where that future lay, the forward merely indicated he would sit down "with advisors in the coming weeks" with a view to seeing out his playing days in a championship "whose level is below that of the main European championships and notably the Bundesliga."
But he insisted that "Schalke 04 will always be a part of my life."
Raul had a strong impact on his arrival at the club based in Germany's industrial Ruhr heartland, where their near-neighbours and rivals are champions Dortmund.
He helped them to the German Cup last season and also hit five goals as the royal blues reached the semi-finals of the Champions League.
Schalke president Clemens Toennies said Schalke would bid Raul a fond farewell with regrets.
"We must accept this decision even if it is difficult as we spent two great years together. I want to say thank you – you are an ambassador for the sport and you allowed our club to shine that much brighter. Schalke's door will always be open to you," Toennies told Raul.
"Adios, we shan't forget you," Toennies concluded.
The 34-year-old Raul arrived in Germany in the summer of 2010 after averaging close on a goal every two games in 741 appearances with Real, with whom he won three European Cups.
With Schalke he has netted 27 times in 63 league appearances and 33 times in all – including his Champions League efforts.
Earlier this season, he scored his 400th career goal in a 4-0 home romp over Wolfsburg.