Ranieri predicts Inter Milan will beat AC Milan in derby
Posted on January 15, 2012 by SoccerPunter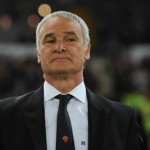 Inter Milan coach Claudio Ranieri admits his side must beat neighbours AC Milan to thrust themselves into the Italian Serie A scudetto picture.
The two Milanese giants face off at the San Siro on Sunday night in one of the most eagerly anticipated clashes of the season.
Milan are currently joint-top of the table, alongside Juventus, with Inter eight points back in fifth. The nerazzurri have paid for a disastrous start to their Serie A campaign in which they won only two of their first nine matches.
However, five wins in a row and seven in their last eight have at least made Inter relevant again in the title picture.
Defeat, though, would almost certainly kill off their hopes — not that Ranieri is willing to acknowledge that just yet.
"The most important thing in tomorrow's match are the three points," he said at Saturday's press conference.
"If we win we will put ourselves back on course to do something important and Milan will drop points.
"If we lose, we'll go back to where we were beforehand, but there will still be time to fight back into it."
While his former club Juventus could ultimately be the big winners on Sunday, Ranieri insisted that he needs his team to win a direct confrontation with title rivals following three previous defeats this season.
"Several times I've said we wanted to win a match that counts. I said so against Napoli, against Juve and against Udinese," he said.
"The derby is important for the three points. In October we lost to Napoli and then we lost twice more to Juventus and Udinese."
Ranieri will be able to call on playmaker Wesley Sneijder, striker Diego Forlan and defender Cristian Chivu, who are all back from injuries, while only midfielder Dejan Stankovic is missing.
It means the former Chelsea and Juventus coach has more options than at any other time this season and will have to leave some players on the bench.
"I'm delighted about that, the problems come when you don't have anyone to pick," he said.
And Ranieri believes the game will be won and lost in the centre of the park.
"The midfield has always been and will always be the heart in which you need to have the best strategies and the best players to lead your team to victory," he added.
However, he is particularly wary of Milan's ability to hurt teams on the counter-attack.
"We'll fight for every ball, we have to stop Milan doing what they're good at, principally counters, and that's where we've also struggled in other matches.
"Another of their weapons are players running from deep like (Kevin-Prince) Boateng and (Antonio) Nocerino."
But most of all, Ranieri says his team will be keeping a close eye on Sweden forward Zlatan Ibrahimovic, who currently tops the Serie A scoring charts.
"He's a player who's always made a difference, even at Barcelona," said Ranieri.
"In Italy he's always won the title, he's vital. We'll do our best to stop him and my defenders will of course be showing maximum attention around this player."
Last season, champions Milan won both derbies and finished six points ahead of Inter in the Italy Serie A.