Pique might be in Barcelona line-up against Chelsea
Posted on April 24, 2012 by SoccerPunter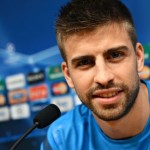 Barcelona defender Gerard Pique dismissed reports of a rift with coach Pep Guardiola here Monday on the eve of the Spanish giants' crunch Champions League semi-final second leg with Chelsea.
Pique, regarded as one of the key figures in Barcelona's evolution in recent years, was surprisingly omitted from last week's first leg defeat at Stamford Bridge and was also left on the bench for Saturday's 'Clasico' with Real Madrid.
The 25-year-old defender's recent exclusion from the starting XI follows persistent rumours of a fall-out with Guardiola, but Pique insisted here Monday that his relationship with the Barcelona coach remained solid. "It is a new situation for me because I'm used to playing and in the last matches I have not had a chance to play," Pique told reporters at the Camp Nou. "But it's a technical decision of the manager and I have to respect that."
Pique learnt his trade at Barcelona before spending the early part of his career at Manchester United, eventually returning to Catalonia in 2008 at the start of Guardiola's reign as coach.
"We got here together in the same year — him as a coach and me as a player," Pique said. "We're part of a very important era for this club and I trust him."
Pique is also convinced that Guardiola, who has yet to commit his future to Barcelona beyond the end of the season, will continue at the helm.
"I think he's going to keep going — he loves this club, he loves his profession. I think there is no bigger passion for him than football and FC Barcelona. So really I bet he will be with us next year.
"My relationship with him is very good. Some people here might doubt it but our relationship here is very good."
Pique meanwhile revealed he had sought out Guardiola last week to seek guidance about his current exclusion from the team.
"He just told me what he thought and that's it. He's always been tough with me but I like that," he said.
Barcelona's defeat to Chelsea in the first leg last week and the loss to Real Madrid on Saturday has led some observers to question whether the club might be in the grip of a mini-slump.
Pique laughed off suggestions that Barcelona's recent problems were anything other than a blip however.
"I believe a team that has won 13 awards in the last few years deserves more credit than that," he said.
"People talk too easily. I think we deserve more respect."
He also denied that the defeats to Chelsea and Madrid were linked to the failure of Lionel Messi to score.
"I think that the opposition knows us very well now and it is very difficult to get behind the defence and score," he said.
"Of course Leo offers us a great deal and his goals are vital sometimes, but we have a lot of players who can score. I don't think we have a Messi dependency. We have proved that."
Pique also leapt to the defence of Chelsea striker Didier Drogba, denying the Ivorian had "cheated" during last week's semi-final clash.
Drogba's conduct during Chelsea's 1-0 win at Stamford Bridge has attracted a storm of criticism in England, with the 34-year-old accused of repeatedly feigning injury to disrupt Barcelona's rhythm.
However the two-time former African Footballer of the Year received staunch support from centre-half Pique here Monday, who said he had no doubts about the Ivorian's integrity.
"Every time a player goes down and complains I believe he has been hurt," Pique said. "I trust the player every time he goes down. I don't think he's been criticised. I believe in Drogba, I believe in his honesty.
"I think every time he goes down it's because he's in pain or he felt a kick. I don't think that Drogba is trying to act or dive. I don't think so. Because he's not like that."
Meanwhile, Pique said he was confident the Spaniards could overturn their first leg deficit.
"We have to play our game and play 90 minutes with the ball. We will have our chances. I don't know if we will score or not but we will have to work hard to find the chances," he said.
"If we have 70 per cent possession like we've had in the last few days and
years, I think we will have opportunities to get to the final.
"It's hard to play against Chelsea because they are strong, really competitive, they know how to play these games because they have a lot of experience.
"It's always difficult when you play against guys like (Frank) Lampard, (Didier) Drogba — these kind of players have a lot of games in their legs and they know what they are doing."