Mourinho laments match-fixing in Barcelona triumph
Posted on April 28, 2011 by SoccerPunter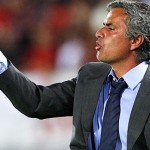 Real Madrid lost to Barcelona in a Champions League Semi-Final match full of controversy.
Jose Mourinho was sent to the stands and Real defender Pepe was handed a straight red card during a fiery first leg, which Barcelona won 2-0 at Santiago Bernabeu thanks to two late Lionel Messi goals.
At the post match interview, Mourinho clearly disagreed with the decisions but he also decided to vent his thoughts on what he believes is a systematic favouring of Barcelona by UEFA. He said his rivals were the beneficiaries of constantly biased refereeing, naming a list of individual officials and citing specific examples down the years while claiming Barcelona's recent Champions League successes are tainted by "scandals".
"The return game is mission impossible," he told the press after the game. "Barcelona has qualified for the final. Sometimes I feel disgusted about this football world of ours. Yes, we have already been knocked out.
"We had the intention to keep the game at 0-0, then bring on a striker, then a third phase with a No. 10 behind three forwards. But the ref didn't allow it."
Speaking to reporters after the game, Mourinho said: "I haven't said anything to the referee, I just laughed and cheered. If I say what I think my career will end now."
"I just have one question: Why?," he added. "Why Ovrebo [Chelsea vs. Barcelona referee in 2007 semi-final], Busacca [Barcelona vs. Arsenal in this year's Champions League], Stark? In each semi-final it is the same. We are talking about an absolutely fantastic team. Why didn't Chelsea make the final? Why did Inter have to be saved by a miracle?
"Congratulations to Barcelona. But I just do not understand why Barcelona always receive the help of the referee. All my life I will be asking myself this question, and one day I hope to receive an answer.
"I am not too sad, I have a great family. But I don't understand why Barcelona have this power. It happened two years ago to Chelsea (in the 2009 semi-finals), almost to my Inter last year, and also to Arsenal this year.
"Why do the opponents of Barcelona always have a man sent off? Where does this power come from? Maybe it is to give more publicity to UNICEF, maybe because of the power of (Spanish federation president Jose Angel) Villar in UEFA."
"I have already won two Champions Leagues, and I won them on the pitch, with two teams that weren't Barcelona. I won one with Porto, a small team from a weaker league. And I won another with Inter, sweating and fighting hard.
"Josep Guardiola is a fantastic football coach, but the Champions League he won was an embarrassment because of what happened at Stamford Bridge – it was a scandal. And if he wins it this year, he will win after the scandal at the Bernabeu. Let's hope he gets the chance to win a clean Champions League (in future), without scandals.
"Guardiola deserves to win a Champions League normally. That's what I wish because he is a very good coach who I respect as a person for his fantastic treatment in four years with him.
"I respect him a lot as a coach and as a person, I hope that one day he will win a clean Champions League, with no incidents behind it."
Cristiano Ronaldo, who was largely anonymous as an attacking presence during the game and showed visible frustration with the way Madrid were playing said: "Do I like to play in a defensive team like Madrid? No, but I have to adapt to what the coach wants.
"Playing against 10 men isn't easy. 0-0 would have been a good result. 2-0 is very difficult. Messi played very well, but it's easier against ten."
However, Ronaldo also agreed with his coach's assessment of how Barcelona extend their influence over the game.
"It's always the same with them [Barcelona]. This is the fourth consecutive season that something like this has happened. [Jose] Mourinho is right, just look at what happened with Arsenal, Chelsea and Inter," he added. "They [Barcelona] are a fantastic team, but they also have a lot of influence, both on and off the pitch."
Ronaldo admitted Real Madrid didn't play well, but added that things could have gone either way if it weren't for Pepe's red card.
"It's true that we didn't play well. However, it was still scoreless when it was 11 versus 11 and everything was still possible. We could have scored a goal. It will now be very difficult for us though."
The second leg at Camp Nou will be played on Tuesday, May 3.