Milner believes Stuart Pearce can lead England to glory
Posted on February 28, 2012 by SoccerPunter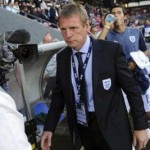 James Milner has backed interim England manager Stuart Pearce to use Wednesday's friendly match against Holland to prove he should be considered for the permanent position.
Pearce has stepped up from his normal role as England Under-21 coach to fill the void left by Fabio Capello's shock resignation earlier this month and Manchester City midfielder Milner expects him to rise to the challenge.
While Pearce has limited experience of club management, the 49-year-old knows all the perils and pitfalls of international tournaments after taking England's youngsters to two European Championships.
Milner, who played under Pearce with the Under-21s, believes that should make him the ideal candidate to take charge of England at Euro 2012 if the Football Association are unable to prise Harry Redknapp from Tottenham's clutches. "I'm sure Stuart could take us to the tournament. If Stuart took us in, he has got the experience and I'm sure he would do a very good job," Milner said.
"All we know at this moment is Stuart is manager for this game and we will give everything we can for him.
"As a manager he has gone to a couple of under-21 championships, which is very different from club football, so he has that experience at major tournaments and the preparation before."
The public perception of Pearce the manager is largely informed by his no-nonsense reputation as a player.
The former Nottingham Forest and England defender could never quite shake the image of an honest toiler who relied on perspiration rather than inspiration.
Of course, the 'psycho' nickname earned from some ferocious challenges didn't help either.
Pearce has sometimes been a volatile presence on the touchline as well during his time as Under-21 coach — he once came dangerously close to encroaching onto the pitch to confront a German player after a bad tackle.
But Milner is adamant that sort of passion is exactly what players want to see and, in any case, he claims Pearce is a more cerebral coach than his image suggests.
"As a manager he knows when to kick you up the arse, but he also knows when to put his arm around you," Milner said.
"He knows how to get the best out of players. Before the game he will have his talk and you will always go out on the field ready and raring to go.
"People expect him to be punching walls and throwing tea cups but that's not the case. He does it on the rare occasion it is needed.
"But a lot of the time he knows what to say in a calm way and get his point across. The lads will respond to that.
"That is the passion and will to win. He probably wishes he was still out there playing.
"That is something good to have, when you've got that on the sideline, the determination and will can only be good to know that is behind you."
The respect between the two is clearly mutual. Asked recently about the kind of qualities needed to be an England captain, Pearce responded by naming Milner's unselfish approach and ultra professional attitude as the perfect example.
Many expect Pearce to choose Liverpool captain Steven Gerrard as skipper against the Dutch, but Milner could be in the running as well and the City player would relish the responsibility.
"As a kid you dream of one day captaining your country," he said. "If I was asked to do that I would be very proud and do it to the best of my ability on and off the field.
"As a footballer I tried to do everything to get the best out of myself and improve as a player.
"That would be the same as a captain. You would do everything you can to help yourself and the team. Nothing changes there really.
"Obviously your responsibilities and press demands change. People might look on you differently, but as a player you still want to play as well as possible for England, whether you have the armband or not."