Mascherano completes Barcelona transfer
Posted on August 31, 2010 by SoccerPunter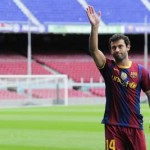 Argentinian international midfielder Javier Mascherano completed his 17.25 million pounds (26.6m dollar) transfer to Spanish champions Barcelona from English Premier League giants Liverpool on Monday.
The 26-year-old – who captained Argentina at the World Cup finals where they were humbled 4-0 in the quarter-finals by Germany – signed a four-year contract after passing a five-hour medical, according to the buying club's website.
The get-out clause is set at 90 million euros (113.9m dollars).
Last week, SoccerPunter commented that Mascherano is on his way to Barcelona, and indeed the deal was sealed on Monday. Read previous post on Mascherano.
Mascherano said that he wasn't going to the Spanish club "for a holiday but to take advantage of a once in a lifetime opportunity" to play for a team which was made up of world champions.
Mascherano paid tribute to the calibre of his new team-mates and said that he was determined to earn his place in the squad.
"There are great players in my position," he said.
"I would be stupid if I thought that I was coming here to play everything, you have to respect the people who are doing well and who have won everything.
"In the positions in which I can play, there are three world champions," he said in reference to Sergio Busquets, Xavi Hernandez and Andres Iniesta.
"The day that I'm called on to play, I want to do it in the best possible way and will do everything to ensure that the absence of the team-mate who had to come off isn't felt."
He added: "I'm coming to a team which has in the past few years won everything. It is made up of world champions. I will try to help the team continue winning things.
"In the future I am certain to say that I was a better player for having played in this club."
Barcelona's first-team doctor Ricard Pruna spoke to Barcelona TV about Mascherano's level of fitness.
"It was an exhaustive medical that lasted around five hours," he explained.
"He is in excellent condition and is physically great."
Dr Pruna said that fans should not be concerned about Mascherano missing many matches through injury.
"His cardiovascular level is perfect and he is a player who has had very few injuries," he said.
"In the last five years he has suffered one injury that has left him with problems."
Mascherano has been keen to leave Anfield for several months having almost joined the Spanish champions 12 months ago only for former Liverpool manager Rafael Benitez to eventually price the player out of a move.
However, with Mascherano keen to leave for personal reasons – he constantly complained his family had not settled in England – Liverpool came to an agreement with him that if they received an acceptable bid they would allow him to leave.
Liverpool rejected an initial bid of 16 million pounds from Barcelona but finally accepted that they would let him leave when the Spanish club came back with an improved offer last Friday.
The player, bought for 18 million pounds from West Ham over three years ago, had angered present Liverpool manager Roy Hodgson when he refused to play for he club in their defeat to Manchester City last Monday.
"Roy Hodgson knows the truth," he said in the Guardian. "This is a happy moment for me so now is not the time to say it, but a lot of lies have been told about me and I will respond to them.
"Last year Liverpool would not let me leave. There was no way they would sell me. They had Xabi Alonso and me, and they would only let Xabi leave."
He added in the Sun: "Against Manchester City, I was not right to play. Liverpool will always be in my heart but my time there has finished."
Mascherano will train on Tuesday with his new team-mates before leaving for Argentina to join the national side, where he will play a friendly on September 7 in Buenos Aires against World Cup winners Spain.