Mancini advise Balotelli to be discipline in football
Posted on March 3, 2012 by SoccerPunter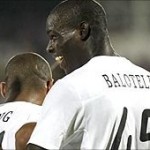 Manchester City manager Roberto Mancini indicated Friday he has told striker Mario Balotelli he should heed a warning from Italy coach Cesare Prandelli to improve his disciplinary record.
Balotelli was dropped from the Italian squad for the international friendly loss to the United States after Prandelli blasted the player's indiscipline, noting the 21-year-old has been sent off twice for City this season and missed eight Premier League matches through suspension – albeit three of those held over from last season.
Mancini said: "I think it (the warning) is correct. We know that Mario is a top player – but he should improve his behaviour. "For the national team it is important. When you go to play in the European Championship and you only play three or five games, you should have good behaviour."
Balotelli did impress for Premier League leaders City in last week's 3-0 win over Blackburn which encouraged Mancini to say that "Mario is the best Italian striker, for sure – 100 per cent."
The former Inter Milan forward has scored 13 goals in all competitions this season, compared with 21 and 18 for fellow strikers Sergio Aguero and Edin Dzeko.
Mancini also noted the return of another controversial figure in Carlos Tevez. now back in training following the end of his five-month dispute with the club going back to September's Champions League no-show from the bench against Bayern Munich.
The Argentinian spent more than three months away without permission and lacks match fitness and Mancini says a start for the first team is a good fortnight away.
"I think he needs a minimum of another two weeks. In these two weeks, it is important he plays two or three games with the reserves. He needs to play on a big pitch," Mancini told a press conference.
"For him it is like pre-season, after three months it is not easy to play.
"At this moment he can't play. Maybe in two weeks he could be ready."
Mancini accepted Tevez's apology for his conduct last week and said they have buried the hatchet.
When asked if the pair had met and agreed to let bygones be bygones, Mancini said: "Yes, we did everything."