Manchester United's Valencia will be out for entire season
Posted on September 17, 2010 by SoccerPunter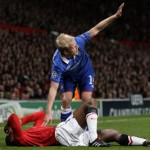 Manchester United winger Antonio Valencia will be out for "a good portion" of the season, the English Premier League side announced Thursday.
The Ecuador international had an operation Wednesday on the ankle he broke in Tuesday's Champions League goalless draw against Rangers at Old Trafford.
United medical staff revealed Thursday that Valencia had also suffered ligament damage in addition to the fracture.
"The operation went well, a plate has been inserted to stabilise the fracture but there is obviously significant ligament damage that follows a dislocation," a United statement said.
"He will be out for a good portion of the season."
United manager Alex Ferguson, immediately after the Rangers match, ruled Valencia out for the rest of the season and said the injury was similar to one suffered by United's Alan Smith in 2006.
The statement also dismissed quotes attributed to the Ecuador team doctor about Valencia's mental state and said the former Wigan favourite was "very positive" about his prospects of recovery.
"Contrary to recent reports, there has been no official contact from the Ecuadorian national team," the statement said.
"Antonio is perfectly fine, very positive and very determined."