Manchester United sign Phil Jones from Blackburn
Posted on June 14, 2011 by SoccerPunter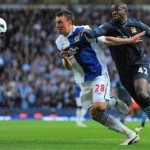 Manchester United
said on Monday that
England Under-21
defender Phil Jones was set to join the
English Premier League
champions from top-flight rivals
Blackburn Rovers
on a five-year deal.
United thought Jones was heading to Old Trafford last week, only for old foes Liverpool to intervene with a reported 20 million pounds offer.
However, Jones is understood to have told Rovers he only wanted to move to United and that has left Blackburn having to accept an offer for the 19-year-old believed to be in the region of 16.5 million pounds.
"Manchester United is delighted to announce it has signed an agreement with Blackburn Rovers for the transfer of Phil Jones," said a United statement.
"The player passed a medical in Manchester last week and has agreed a five-year contract.
"The deal will be completed once the player returns from international duty."
Jones's arrival will take to four the number of United players who started for the England Under-21s in their 1-1 draw with Spain Under-21s on Sunday.
A Blackburn statement, released on behalf of the owners, board and manager, on the club's official site read: "Much as we would love him to stay on with us – and we made all efforts to convince him to stay – Phil has to finally follow his heart. We are extremely happy with his contribution to our team and we wish him all the very best in his future endeavours."
Nonetheless, Kean revealed Blackburn had offered to make Jones the highest paid player at the club had he stayed at Ewood Park and is disappointed the player made the decision to move on.
"The offer we made he was staggering for a 19-year-old, but it wasn't the money," Kean said. "Phil wants to play Champions League football now and we're not at that level.