Manchester United Ferguson prepares team for Chelsea
Posted on September 17, 2011 by SoccerPunter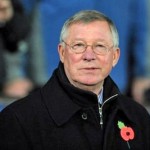 Alex Ferguson admits he is in a dilemma for team selection ahead of
Manchester United
's showdown with
Chelsea
as his squad gradually returns to full strength.
With Ferguson's casualty list shortening with every week, he will soon have to juggle his squad around as he prepares to rotate his team ahead of another key stage of the season.
View Manchester vs Chelsea Head-to-Head statistics
But the veteran Scot claims that with Manchester United about to embark in their third competition of the season, he needs all his players fit and available.
Manchester United enter the League Cup next week, while they will also be fighting to retain their English Premier League crown as well as looking to end Barcelona's monopoly in the Champions League.
"All the players give me a headache. We now have Darren Fletcher back along with Antonio Valencia and Ji-Sung Park," Ferguson said.
"They have not been involved as the team has been outstanding and we have not tinkered with that.
"The game in Benfica was a chance to get them back. We also have the League Cup, with a game next week at Leeds, as well as the Champions League and Premier League.
"We still have two or three injuries, with Nemanja Vidic, Rafael, Tom Cleverley and Danny Welbeck.
"But they are on the mend and hopefully it won't be too long.
"It was clear the squad was a bit rusty early on in the Benfica match, probably because the players who haven't played, but they grew into the game and ended up doing really well.
"But we will need everyone available."
Manchester United have begun the season in fine form, scoring 18 goals in their opening four games to boast a 100 per cent record.
The start suggests the gap remains as wide as ever between the leading sides in the top four and the rest, who battle it out in their own mini-league in the Premier League.
But Ferguson dismissed such a theory, claiming the remainder of the teams aren't there to just make up the numbers and will have something say once again on the outcome of the title race.
Manchester United lost points against the likes of Wolves, Birmingham and West Brom last season and Ferguson says a similar pattern is already emerging barely a month into the new campaign.
"The change in the league last year was teams in the middle were taking points off the top teams," he said.
"Stoke have already beaten Liverpool and drawn with Chelsea this season.
"There's always room for teams to progress at this game. For instance, you see Stoke becoming an important side and that's an indication of how tough it is for us when we go to places like Stoke, Sunderland or Newcastle now. You can lose points."