Manchester City 3 – 0 Liverpool
Posted on August 24, 2010 by SoccerPunter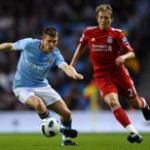 Carlos Tevez scored twice as Manchester City romped to a 3-0 victory against Liverpool.
James Milner, making his City debut, set up his former Aston Villa team-mate Gareth Barry to side-foot home the opening goal in the 13th minute.
Tevez turned in Micah Richards' towering header from a corner seven minutes into the second half, although Liverpool went close moments later.
Steven Gerrard hit the post with a powerful drive and in the scramble that followed City keeper Joe Hart made a brilliant double save to deny David Ngog and Fernando Torres, who was making his first start of the season.
Tevez made the points safe from the penalty spot midway through the second half after Adam Johnson was upended by Martin Skrtel.
Sheikh Mansour could not have picked a better night to watch the team he has spent £1 billion on in a league game for the first time.
With James Milner enjoying an outstanding debut, City were far too good for a Liverpool side who have a week to get themselves into some sort of shape given Javier Mascherano's absence seems like the next step in a big-money move to Barcelona.
Milner set up Gareth Barry for City's opener before Carlos Tevez claimed to have got a touch to Micah Richards' goalbound header just after half-time.
On-form goalkeeper, Joe Hart, snuffed out any chance of a revival before Tevez sent Pepe Reina the wrong way from the spot after Martin Skrtel had fouled Adam Johnson.
It capped a performance that proves City have the credentials and the talent to win the biggest prize they can this season, if manager Roberto Mancini can keep his vast squad happy.
Rather more costly were the players he has helped assemble. Nine of them were part of Roberto Mancini's starting line-up – Richards and Hart the two exceptions – a sign of the revolution that has taken place in the past two years.
Long-standing City fans are still pinching themselves at having the opportunity to watch the likes of Yaya Toure and Tevez. But down the years, they have taken a huge amount of pride in their academy, which has produced so many first-team players, Richards among them.
 The goal came about because of a momentary failure from Steven Gerrard just brought added poignancy. Johnson spotted Milner advancing just beyond the Liverpool skipper and found him with a smart pass. Milner delivered the perfect cut-back into an area he hoped a team-mate had filled. Barry obliged and did the business from 10 yards with a neat side-footed finish. It was the high point of a one-sided first-half.
Tevez and Johnson both found the side-netting from an acute angle. Johnson had earlier driven a fierce shot wide and Milner's running was intelligent and incisive. Liverpool could certainly not have complained if they had been further adrift.
Roy Hodgson's men struggled to retain any source of possession, which just confirmed the gaping hole Mascherano will leave should he get his wish to start another phase of his career away from Anfield.
In a meagre first-half, the visitors created just a single chance, which the returning Fernando Torres set up for Gerrard, who wasted it. The only time Liverpool got any nearer after half-time was in the flurry of activity that followed Gerrard's explosive free-kick that thudded against the post.
Hart was beaten on that occasion but not when David Ngog had a go. England's new No. 1 palmed that away, straight into Torres' path. It seemed a certain goal but Hart stood firm again, repelling the Spain striker with a magnificent save with his left hand.
That this all came after a second City goal, which Tevez claimed even though any touch to a Richards header from Milner's corner was so faint as to render it impossible to spot.
Reina could not keep it out anyway. Nor did the goalkeeper do any better when Tevez sent him the wrong way from the spot after Johnson had been fouled by Skrtel.
All summer, the football talk around these two clubs has centred around breaking into that top four. On this evidence, only City are capable of that. And, thanks to Sheikh Mansour's largesse, they are capable of much more besides too.
Micah Richards insisted he was going to claim the second goal although Carlos Tevez would dispute that. "It's definitely mine, I am definitely claiming it," said Richards. "He had a fantastic game and wanted to cap it off with a goal but he has got the penalty so I am having that."