Man Utd aim to break the curse of Stamford Bridge
Posted on April 5, 2011 by SoccerPunter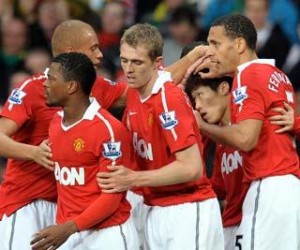 Manchester United will be chasing their first victory against Chelsea at Stamford Bridge in nearly a decade on Wednesday as the English giants collide in a heavyweight Champions League quarter-final.
United are riding high in the Premier League after a weekend which saw them open up a potentially decisive seven-point lead at the top of the table, leaving them firmly on cause for a record 19th title.
But Sir Alex Ferguson is only too aware that there are few more demanding propositions for his team than facing Chelsea at Stamford Bridge, where the Red Devils have not won since 2002.
Perhaps more pertinently, Chelsea have won their last three fixtures against United, a sequence which includes last month's stormy 2-1 league defeat that led to Ferguson receiving a five-match touchline ban.
Nevertheless, Ferguson believes his team is more than capable of repeating their 2008 Champions League final victory over Chelsea in Moscow over this year's quarter-final legs.
Chelsea's strong record against United, Ferguson argued, owed as much to good fortune as anything else.
"I think they've had important breaks against us, I really do," Ferguson said. "I think everyone recognises that in the last four games the major decisions have gone Chelsea's way.
"We beat them in the European final, we were the better team in that final. We were the better team a few weeks ago at Chelsea.
"We have the quality, there's no question about that. We could do with a bit of luck against them, but we don't have a problem with them."
United striker Michael Owen, fit again after suffering a groin injury in February, believes the winless streak is merely a statistical quirk.
"Since I've been at the club the games at Stamford Bridge have been odd," Owen said. "We don't get outplayed there, that's for sure.
"Unfortunately, we haven't had many good results, though. I'm sure our luck will change at some point.
"In the league last month we were 1-0 up and put on one of the finest displays of football Stamford Bridge has seen from a visiting team.
"I don't think many teams go to Chelsea and play like that," Owen told United's official website.
David Luiz, the star of Chelsea's victory over United last month and a key figure in the Blues recent resurgent league form, is ineligible for Champions League duty.
But Carlo Ancelotti's other January transfer buy — 50 million pound striker Fernando Torres — is available.
Many observers, Ferguson among them, believe the timing of Chelsea's acquisition of Torres in January was specifically linked to the Spaniard's eligibility for the business end of the Champions League, the only major title that has eluded the Londoners since Russian billionaire Roman Abramovich took the club over in 2003.
"I think Abramovich has earmarked this as the one he wants to win and that's why they signed Fernando Torres," Ferguson said.
"That is the obvious reason to bring in a player for 50 million in January with four months of the season to go. To me, that's the obvious target — the European Cup."
In Chelsea's case, barring a miraculous turnaround in the championship, Europe is also the only target.
Ancelotti, whose job may be at risk if Chelsea finish the season without a trophy, denies that winning in Europe has become an obsession for the club.
"We know very well how important it is for us to win this title," Ancelotti said. "It's not an obsession, it's a dream."