Levante claim top spot of La Liga above Real Madrid
Posted on October 27, 2011 by SoccerPunter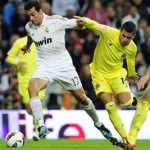 A first half exhibition of attacking play set Real Madrid up for a 3-0 win over Villarreal on Wednesday but they still trail surprise leaders Levante who earlier came from behind to beat Real Sociedad 3-2.
Real are in blistering form and have now scored 28 goals in their last seven games in all competitions, an average of four a match, but they are a point adrift of Levante in La Liga.
Karim Benzema sent Real on their way with a clinical finish after just three minutes and then Kaka fired in the second minutes later against Villarreal whose coach Juan Carlos Garrido is under pressure with the side having not won in seven games. Angel Di Maria finished off a fine team move for the third after 30 minutes and with the game won Real relaxed in the second half while Villarreal offered little threat.
A sensational injury time winner against Sociedad kept Levante in pole position.
Ruben Suarez's injury-time winner allowed Levante to retake top spot in La Liga off champions Barcelona.
The modest side from Valencia are sweeping all before them at the moment in a superb start to the season.
Sociedad went ahead after just three minutes when a poor clearance from the keeper fell to Daniel Estrada who slotted the ball home.
It looked as though it was going to be Sociedad's night as they then hit the post through Alberto De la Bella and had the better of the first half.
Levante came back strongly though after the break with goals from Nano Rivas and Valdo Lopes but it appeared as though they would have to settle for a draw with Inigo Martinez equalising with three minutes to go.
However, four minutes into injury time Suarez gave Levante a stunning victory with a free-kick from distance which went in off the post.
"We are not used to playing three games a week. The run we are on at the moment is almost impossible and in this game we could have easily dropped points," said Levante coach Juan Martinez.
"When we were behind, the team had to respond and they have confidence at the moment and a small amount of luck which you need."
A Jordi Alba goal after 82 minutes gave Valencia a 1-0 win away to Real Zaragoza and was a welcome victory after a poor run of just one win in seven matches.
Malaga, though, failed to bounce back from their 4-0 thrashing by Real Madrid at the weekend as they lost 2-0 to Rayo Vallecano while Getafe drew 2-2 at home to Osasuna.
On Tuesday a Xavi Hernandez free-kick gave a lacklustre Barcelona a 1-0 win over nine-man Granada 1-0 which extended their club record run to seven games without conceding a goal.
The visitors dominated possession from start to finish but lacked a finishing touch. Messi and Pedro Rodriguez went close before Xavi hit a fine free-kick from distance after 32 minutes which flew into the top corner.
They still couldn't wrap the game up with a second goal despite a man extra after Jaime Romero was sent off
In injury time Daniel Benitez was also red carded after being cautioned for a second time.
Barcelona coach Pep Guardiola said that fatigue had been behind his side's unusually ineffective display.
"We didn't play the ball around very quickly and we tried to have more control of the game but this is all understandable when you play so many matches," said Guardiola.
"With the score at 1-0 anything can happen. Any mistake against a side as quick as this (Granada) can be very costly."
Real Madrid 3 Villarreal 0
Real Mallorca 1 Sporting Gijon 2
Rayo Vallecano 2 Malaga 0
Real Zaragoza 0 Valencia 1
Levante 3 Real Sociedad 2
Getafe 2 Osasuna 2