Lampard vows to help Chelsea win Champions League
Posted on May 19, 2012 by SoccerPunter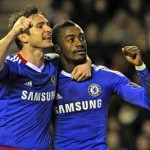 Chelsea midfielder Frank Lampard is determined to end a tumultuous year in style on Saturday when his team face Bayern Munich for Champions League glory.
Three months ago, Lampard's Chelsea career appeared to be drawing inexorably to a close, with the 33-year-old left on the bench as the Blues crashed to a 3-1 first leg defeat against Napoli in the last 16.
It followed months of tension with Andre Villas-Boas, the young Portuguese manager who had been saddled with the task of breaking up the Chelsea side that had won three league titles since 2005.
Villas-Boas's abrupt dismissal in early March however proved to be the catalyst for change in both Lampard and Chelsea's fortunes. With Roberto Di Matteo appointed as interim manager, he returned to the starting line-up and scored a nerveless penalty as Chelsea overturned their 3-1 deficit against Napoli with a stunning 4-1 victory.
Although he did not start in the 1-0 first leg quarter-final win over Benfica, he has played in every match since, producing superb displays in both semi-final matches against Barcelona.
In both games against Barca, Lampard's vision from midfield helped create crucial goals for Didier Drogba and Ramires.
In the absence of the suspended John Terry, Lampard will now captain Chelsea on Saturday for a challenge that the long-serving playmaker is relishing.
"I think we were pretty unfancied to get this far at different stages — we looked on the way out against Napoli, then we were drawn against Barcelona," Lampard reflected this week.
"Not that we have surprised ourselves, but when you don't see it coming the fact that you're there in the final is even more enjoyable in a way.
"We've obviously still got to go and win it but it's been a nice thought for the past couple of weeks."
Lampard himself admits that Chelsea's prospects looked bleak in late February as Napoli threatened to cut loose in the last 16 on their way to a 3-1 win.
"We were struggling. It's not just because I was sitting watching it from the outside but you could see that," Lampard said.
"You wouldn't have looked too far ahead of yourself and seen where we are now. We're experienced enough to know things can change very quickly.
"But on that night we were very despondent in the dressing room afterwards and it took a big effort in the weeks in between the two games to turn things around. The home game was obviously a massive turning point — was the major turning point — in our season.
"With experience you know that football changes in two seconds. You go from the worst to the best in a second and the other way around pretty quickly as well. That's the nature of the game.
"We always knew and I always knew that we had the quality. Losing the Napoli game, we knew we were better than that and it took a big effort from everyone at the club — staff, players included — we all had to improve."
While satisfied that his season has been transformed since the departure of Villas-Boas, Lampard is determined to finish on a high in what might be his last opportunity to lift European club football's greatest honour.
He agrees with the suggestion that a season of extremes could swing between his lowest ebb as a Chelsea player to its zenith with victory on Saturday.
"Possibly. It was tough for me at times. I wasn't in the team. It was frustrating individually. I sat back and got the hump indoors," Lampard said.
"I carried on working hard and in the end it has turned around for me personally. But not quite to the full extent yet. I need to win the final and then I could probably answer that better."
Lampard is adamant that a Chelsea victory on Saturday would represent the club's greatest ever achievement, given the fact that four players are suspended for the final.
"For Chelsea it would be the greatest achievement for sure," Lampard said. "We've got four players out, some of our best performers of the season.
"I think every step has been a huge achievement — the Barcelona games, the turnaround against Napoli. But it would be Chelsea's best ever achievement if we were to win it."