Lampard to lead England against Denmark
Posted on February 9, 2011 by SoccerPunter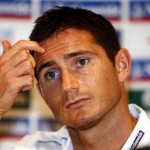 Frank Lampard, at the age of 32, will start his first match as captain of England when Fabio Capello's team play a friendly international against Denmark on Wednesday.
The Chelsea midfielder who has won 83 caps and scored 20 goals since making his England debut in 1999, has been handed the armband following injuries to first choice Rio Ferdinand and deputy Steven Gerrard.
"I am very proud, it is quite unexpected," Lampard, who will become England's 46th captain since the Second World War, told a news conference on Tuesday.
"I've been in the squad for a long time now and I've got to a point where I am one of the old stagers.
"It will be one of the proudest moments of my career.
"I'll try and do what I do for Chelsea," Lampard added. "I'm not going to change just because of the armband.
"The team will always need leaders and I will try and do my usual job but try and have an influence on the team."
Lampard's promotion to captain comes at a good time for a player who has endured a difficult season so far for his club, missing a large chunk of it through injury and then seeing English champions Chelsea's form dip alarmingly in the last few months.
He has not played for England since August but Capello is confident the veteran will prove influential in Copenhagen, where England lost 4-1 in a friendly in 2005.
"I spoke with him about injuries that he has suffered and I have been monitoring the last five games he has played. He has improved a lot," Capello explained.
"I watched him against Liverpool (in a match Chelsea lost 1-0 last weekend) and he played a really good game. Probably he is fresher than the other players," the Italian added.
Lampard will be charged with looking after 19-year-old Arsenal midfielder Jack Wilshere who will start the game alongside him, while Capello confirmed Wayne Rooney and Darren Bent will begin the game up front.
"I monitored Wilshere for a long time at start of the season and he played well but was not ready for the seniors," Capello said.
"But the last two months he has improved, he is confident and the other Arsenal players are confident with him.
"I spoke to Arsene Wenger (the Arsenal manager) about the position to play him in on Wednesday and he said he was good going forward and also playing further back. I hope the option will be for him to stay in front of the back four, like a centre-back."
Chelsea left-back Ashley Cole, recently voted England player of the year by fans, will also play from the start and will become his country's most-capped full-back with 86 appearances.
England see this match as crucial preparation for a Euro 2012 qualifying tie against neighbours Wales in Cardiff on March 26.