John Terry apologises over red card in Champions League
Posted on April 25, 2012 by SoccerPunter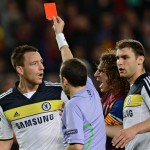 Chelsea captain John Terry apologised for his red card moment of madness against Barcelona on Tuesday that will rule him out of next month's Champions League final.
The Chelsea icon was given his marching orders on 37 minutes of an epic encounter at the Camp Nou which saw the Premier League side fight back from 2-0 down to draw 2-2 and clinch a 3-2 aggregate win over the Catalans.
Terry's dismissal for a foul on Alexis Sanchez threatened to trigger a drubbing for Chelsea, who conceded a second goal to Andres Iniesta soon afterwards following Sergio Busquets' opening strike. However the veteran defender watched from the bench as goals from Ramires and Fernando Torres sealed a remarkable comeback.
Former England captain Terry admitted however that the result was bittersweet as he will be denied the opportunity to lead Chelsea in Munich.
"Sanchez was darting in behind me. I've seen the replay and it does look bad," Terry told Sky Sports.
"I'm not that type of player to intentionally hurt anyone. I've raised my knee, which I maybe shouldn't have done in hindsight. But hopefully people who know me as a person, as a player… I'm not that type of player.
"I'm disappointed but delighted for the lads. To come here and play the way they did and get the result they did with 10 men… I feel I've let them down. I've apologised to them and I want to apologise to the fans as well.
"At the time, I was bewildered because I was trying to protect myself a little bit, but looking at it on the replay, I've no complaints. I've let the lads down. They've performed brilliantly, so hopefully this doesn't take it away from the players."
Terry, desperate to atone for the penalty shoot-out miss which cost Chelsea victory in the 2008 final over Manchester United, agreed it would hurt to miss the final.
"On a personal note, of course," he said.
"But this is what this football club deserves. We deserve to be in the Champions League final. The boys were excellent and I hope the incident doesn't take away from how hard they worked."
Chelsea's interim manager Roberto Di Matteo refused to attach any blame to his captain.
"He's a fantastic leader of this group. He's the captain of our club. Everybody can make a mistake in life. We're just so happy that this group has managed to go to the final," he said.
"We're all human beings. We're under a lot of pressure as players."
Di Matteo meanwhile hailed Chelsea's "incredible achievement" in reaching the final after a tumultuous season.
"A lot of people had written us off and we showed again what kind of character these players have," Di Matteo said.
"We didn't expect to play with 10 men and we knew it was going to be tough. It was even more difficult than we expected.
"They're a great team, with some fantastic players. We just showed what we're made of."