How Crucial Was Arsenal's Win Over Man City?
Posted on December 23, 2015 by Sreya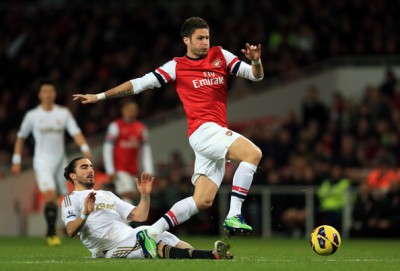 Arsenal played out a 2-1 victory over Manchester City at the Emirates on Monday to close the gap between themselves and league leaders Leicester City. The 2015/16 English Premier League season has been one of the most unpredictable one in recent years. With the well-deserved win over Manuel Pellegrini's side, Arsenal have inched a step closer to their long coveted league title.
Manchester City were particularly error-prone on the night, especially in defence. While Mesut Ozil put up another brilliant performance, the goals from Theo Walcott and Olivier Giroud in the first half came in face of Manchester City hogging possession all over the pitch.
A stunning strike from Yaya Toure in the 83rd minute gave Manchester City some hope, but Pellegrini's side could not find an equalizer and the defeat leaves them four points off the Gunners.
Wenger showered exuberant praise on his German playmaker after the game, as Mesut Ozil notched up yet another assist. The former Real Madrid attacking midfielder has been a revelation this season – creating at will and controlling the tempo of the game through the centre of the park.
With Manchester City being particularly sloppy while defending, especially Nicolas Otamendi who put up an underwhelming performance in absence of the club captain Vincent Kompany, Arsenal threatened every time they had the ball.
In spite of dominating possession, Manchester City failed to create any notable chances and their goal came from a long-range strike.
"I don't know what kind of statement it makes but for us it was a vital game, a game you come out very happy because it has shown the ingredients you need in big games; strong organisation, moments of brilliance, moments when you need to hang on.

It's too early to say [we will] win the league but it strengthens our belief that we have a word to say. What is interesting is there is a real life, a real togetherness in this team."

– Arsene Wenger, Arsenal.
Although Arsene Wenger refused to acknowledge that the result of this particular fixture would play a major role in the race for the Premiership, the Arsenal boss admitted that the momentum could prove crucial for Arsenal's chances.
With only Leicester City ahead of them, Arsenal fans would be hopeful of the title chances of their team and should Arsenal continue to perform akin to their current form, the dream of winning the Premier League could translate into reality.