German Bundesliga: Bayern Munich 2-1 Wolfsburg
Posted on August 21, 2010 by SoccerPunter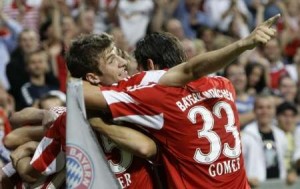 Bastian Schweinsteiger struck at the death to get FC Bayern Munich's Bundesliga title defence off to a positive start, with Steve McClaren's first game as coach of Wolfsburg ending in a 2-1 defeat.
Bastian Schweinsteiger struck in the final minute to give FC Bayern Munich a 2-1 win in the first game of the new Bundesliga season, after Edin Dzeko had cancelled out Thomas Muller's opener for the hosts.
Schweinsteiger slid in to convert Franck Ribery's cross from the left at the far post a minute into added time in Munich to give Louis van Gaal's men all three points, though Steve McClaren could consider himself unlucky to have come away from his first game as the Wolves' coach with nothing.
Bayern made a fine start, a neat one-two with Toni Kroos ending with Muller volleying left-footed past Diego Benaglio after just nine minutes, and the 2008/09 champions barely laid a glove on their hosts before the interval. However, Wolfsburg emerged refreshed after the break, and substitute Zvezdjan Misimovic set up Dzeko's headed eaqualiser with a 55th-minute corner.
Delighted to have won the game, Muller was still mystified by the way his side lost their way after the interval. "It is inexplicable, what happened in the first ten minutes after the break," he said. "Really, we did not deserve to win the game, but we kept trying until the end." Misimovic added ruefully: "Our second half was better; in the first one we were too anxious, but in the end Bayern showed their class and made the difference."
Schalke 04, runners-up last season, take on Hamburg SV on Saturday while Werder Bremen, who finished third, visit Hoffenheim.