Ferguson prepares Manchester United for Liverpool match
Posted on January 28, 2012 by SoccerPunter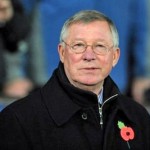 Sir Alex Ferguson renewed his pleas for calm on Friday ahead of Manchester United's FA Cup fourth round clash with Liverpool.
Check out Liverpool vs Manchester United Head to Head Statistics (H2H)
The northwest rivals collide at Anfield on Saturday in the first meeting between the teams since the racism furore between Luis Suarez and United fullback Patrice Evra which ended with Suarez being banned for eight matches.
While the Suarez saga has added another layer of animosity to a rivalry that is already one of the most bitter in English football, Ferguson has called for cool heads to prevail on Saturday.
"As (Liverpool captain) Steven Gerrard said yesterday, there is a responsibility on the players to behave properly and also both sets of fans," Ferguson said.
"We want to make sure we are talking about the game, nothing else."
Ferguson refused to confirm whether he would pick Evra for the clash, although it is highly unlikely the in-form Frenchman would be omitted from such a high-profile game despite the likelihood of him facing relentless abuse.
"I am not getting involved in that," said Ferguson, who earlier this week wrote to United ticket holders to urge them to be on their best behaviour.
"It is a massive game for both clubs. There is a tremendous profile on it," Ferguson said.
"I am confident. We want to talk about the game of football. It is something you want to look forward to. That is what I intend to do.
"Our fans were terrific there this season.
"The issue of clubs reducing the number of tickets for our supporters has been going on for quite a while now. It has become a convenient way of selling their hospitality.
"But the stewards have a difficult enough job as it is. We should be helping."
Liverpool manager Kenny Dalglish, who had repeatedly protested Suarez's innocence even after the FA judgement, echoed Ferguson's comments.
"We want to concentrate on going out and playing football and any other sideshow is purely that, it is just a sideshow," Dalglish said.
"Everyone has a responsibility to uphold the names of their respective club and anyone who reports or comments on the game also has the responsibility to make sure they are not trying to incite trouble.
"But it is not only the fans who have to behave themselves; we have a responsibility to behave – but that is the case every time.
"I am sure everyone will be determined to make sure what's done has been done and whatever your grievance is keep it to yourself and let's get on with the game."
Ferguson meanwhile declined to comment on reports early Friday that Portugal winger Nani faced two months out with a foot injury or that Wayne Rooney was struggling to be fit for the game.
"We have a few hoping to be training this morning. I have no update really," Ferguson said.