Ferguson predict classic Champions League final showdown
Posted on May 28, 2011 by SoccerPunter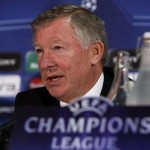 Sir Alex Ferguson predicted a classic
Champions League final
as his
Manchester United
side put the finishing touches to preparations for their showdown with
Barcelona
.
Speaking on the eve of one of the most eagerly anticipated European finals in years, Ferguson agreed that Saturday's Wembley showpiece was effectively a collision between the two best club sides of the past decade.
"I think many people would agree with that," Ferguson said. "I think that the success both teams have had in the last decade has been enormous.
Analyze Head to Head Stats for Manchester United vs Barcelona
Live Odds and Odds Comparison for Man United vs Barcelona
"It could be the best final of the decade. The attraction of two great teams with great history is obvious, and it's an appealing final in terms of what could happen in the game. Anything could happen in this game tomorrow.
"There could be a lot of goals, there could be a lot of excitement, and there'll be a lot of good football I'm sure of that.
"So it's set up, the platform is there, and hopefully it turns out that way."
Saturday's meeting at Wembley is a rematch of the 2009 final in Rome, where Barcelona gave Manchester United a passing masterclass on their way to a surprisingly comfortable 2-0 victory at the Stadio Olimpico.
However Ferguson hinted he planned to "fight fire with fire" on Saturday rather than opt for a more defensive-oriented gameplan.
"I think that, as we always do, we recognise the qualities of our opponents," Ferguson said.
"Of course we always focus on what we can do ourselves and we hope to attack. I don't think anyone questions the attacking players we will have on show tomorrow."
Ferguson said he believed United were now better equipped to deal with Barcelona than they were two years ago.
"We were disappointed we lost the game but it isn't a matter of revenge it is about our own personal pride," he said.
"We are very focused this time and our preparation has been better. I think we maybe made one or two mistakes last time but not this time."
Ferguson also praised opposite number Pep Guardiola, who could claim his second Champions League crown in three years if Barcelona are successful against United on Saturday.
"From beating us in Rome to the present day, you can see that maturity. He's changed the way they press the ball, for a young coach he's done fantastically well and has a good presence.
"He played for Barcelona, which helps, and with the history of Dutch coaches there, he's made a big step forward for Spanish coaches."
The 69-year-old Scottish boss also admitted his side were excited to be contesting the final at Wembley, scene of the club's famous maiden European Cup triumph over Benfica in 1968.
"It's a symbol of English football. We've been here a lot of times. It's not the old Wembley but you know when you come here it's for a big reason and there's none bigger than tomorrow," Ferguson said.
"I feel this is the right place for a final. We're at Wembley and that gives you an awareness that it's a big game. And I quite like big games.