Ferguson confident Manchester United will beat Fulham
Posted on March 27, 2012 by SoccerPunter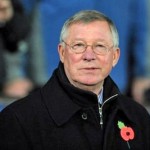 Sir Alex Ferguson believes Manchester United should be applauded for still being in the Premier League title race but has told his players to ram home their advantage against Fulham on Monday.
For the first time since the start of the campaign, Ferguson's squad is almost at full strength as United enter the final run of matches.
His defence has been hit particularly hard, with Nemanja Vidic missing the majority of the campaign through injury.
Phil Jones could return from illness against the Cottagers on Monday but Ferguson could still be without as many as six of his first-team squad. Even so, a victory over Martin Jol's side would see United open up a crucial three-point lead over Manchester City, held 1-1 at Stoke on Saturday.
Ferguson must also be comforted by the fact that, after the Fulham game, United face Blackburn, QPR, Wigan, Aston Villa and Everton before heading to City for the third last game of the season on April 30.
Despite having taken United to a record of 19 titles, Ferguson feels that if his squad were to hold off City, this one would represent one of the most impressive achievements and he hopes that his group's experience will count.
"I have to congratulate the players on achieving the position we are in because of the injuries we have had," he said.
"It's not been a great season for us in terms of injuries. The players have shown resilience and we are in the position we are now because of that.
"Now we are starting to get players back and we hope they stay back because it does strengthen our chances.
"I think you are better having had the experience of winning the league than not. But we've still got to win our games. We've got nine games over the next few weeks – five at home and four away – and that's the challenge.
"You get that when it comes to the crucial part of the season, everyone tends to get fit again. I'm delighted of course, having a full squad like that gives me variety.
"We've got to win these games if we can, that's what we have to aim for. Each game is a challenge as you go along.
"After this, it's Blackburn and so on and so on, that's the best way to handle it."
Other than Jones, Nani is still struggling with an ankle problem and Michael Owen, Vidic, Darren Fletcher, Anderson and Anders Lindegaard are also absent.
While midfielder Michael Carrick regrets the fact that United do not have other competitions to go at, he believes Ferguson's side will benefit from the extra rest.
United have reached the Champions League final in three of the last four seasons and regularly have other competitions to soak up their resources.
"Ideally we'd still be in the Champions League and we'd be playing twice a week," Carrick said. "But the way things have gone it means we've pretty much only got one game a week now.
"You'd have to say the situation we're in now should give us an advantage in that area compared to previous seasons. It will help us be at 100 per cent for each game."
United have beaten the Cottagers in their last seven matches at Old Trafford, dating back to the Londoners' victory in 2003.
Fulham manager Martin Jol admits he would struggle to separate United and City but believes the current champions have a slight edge
"It depends on the players and whether they are still there. It will be an advantage for them but they have other players.
"Maybe there is a bit of a winning mentality installed in that club, which is a culture so yes I do think they have an advantage over City."
Zdenek Grygera (knee), Steve Sidwell (hernia) and Orlando Sa (hamstring) are all absent for the visitors.