Premier League title race to be decided on Manchester derby
Posted on March 5, 2012 by SoccerPunter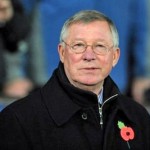 Sir Alex Ferguson believes the destiny of the Premier League title race will be decided by the outcome of Manchester United's trip to face current leaders Manchester City at Eastlands on April 30.
United manager Ferguson is convinced his side took a major step toward retaining the English crown with the hard-fought 3-1 victory at Tottenham on Sunday.
The champions were out-played for long periods but capitalised on two defensive errors by Spurs before Ashley Young capped victory with his second goal of the game. Ferguson admitted his side rode their luck, but believes the form shown by United since the turn of the year confirms they are stepping up the pressure on City, who currently sit two points clear at the head of the Premier League table.
"We have had all the big teams since January including City and Liverpool in the FA Cup," Ferguson said.
"We have come through that and credit to the players. They have played well in most of the games. Today was a bit disappointing but the one thing we did do was show the determination to get the result.
"We have had it in the past. No question we have come from certain games knowing we have had a bit of luck.
"But Tottenham are a very good side and this is only their second defeat at home since the start of the season. Every game they play 58 per cent possession – that's a big, big percentage, that.
"It was a massive result and a massive performance by our defenders."
United face City at the end of April for their third last league game and Ferguson said: "I think it will be (the title decider), yeah.
"It is difficult to say because things can happen. You can drop points. You can drop surprise points. I think that will happen. I think both teams will drop points. But the important thing is not to drop as many as you opponents.
"We have the experience. We won't get nervous. The battling performance we did today against a very, very good team tells you that we are well up for it."
Wayne Rooney put United ahead against the run of play just before half time before Young struck in the 60th and 69th minutes to wrap up the points.
Jermain Defoe produced an 87th minute reply but it was too late to affect the outcome.
Back to back defeats have left Tottenham sitting in third place, just four points ahead of Arsenal, who lie fourth, but manager Harry Redknapp remains convinced his side will hold onto their position.
"It's going to be tight for the top four but I'd still rather be where we are than where Arsenal are," Redknapp said.
"They're four points behind us and we're going for third. I'd be disappointed if we finished fourth. I'd be more disappointed if we finished fifth."
Redknapp insisted he was satisfied with his side's response to the 5-2 defeat at Arsenal the previous week.
"I had a meeting with the players on Friday when they came back from international duty and said they've been a credit all season," he added.
"We've had one bad performance really, apart from the first two games of the season when it was not the team I wanted to field.
"After that we have been on an incredible run of winning games and turning in great performances.
"We had a blip last week against Arsenal but I said I was proud of that they have done and want them to continue that. I felt we did that but needed a break."
Redknapp also denied the speculation linking him with the England job had affected Tottenham's form.
"You can't say the focus has been lost," he said. "I'm completely focused on this team and getting results here.
"The players know that as well. I don't have days off. I work all week for Tottenham."