England blasts by UK press after France defeat
Posted on November 20, 2010 by SoccerPunter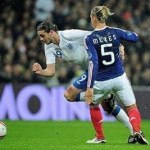 England's footballers were given a media savaging on Thursday after Fabio Capello's "brainless, gutless" side were outclassed by a resurgent France at Wembley.
Several reports bemoaned the fact that while France's post-World Cup rehabilitation appears to be gathering pace under Laurent Blanc, Capello and England are struggling to shake off their South African hangover.
"Blanc inherited a team in disgrace after the World Cup but has now moulded a unit that wants to play for him, keeps its shape, keeps possession and lets flair and patience exist side by side," commented The Sun.
"As for Capello, read the same old, same old. England were ragged, directionless, clueless."
The Times meanwhile noted that with much of England struck by royal wedding fever, "it was fitting that France should come to town to remind England that its friends across the Channel do things differently."
"With quality, authority and an unmistakeable sense of style," one commentator remarked.
"The French revolution is working far more effectively than England's slow evolution," the paper added.
The Times chief football correspondent Oliver Kay meanwhile described England's performance as "brainless" and "gutless," adding that the French victory was "far more comprehensive" than the final scoreline suggested.
"(France) showed that, unlike England, they have moved on from their World Cup nightmare," Kay wrote.
Daily Mail columnist Martin Samuel added: "English football talks of emulating the style of modern Spain, while France go out and do it.
"Their players, a rebuilt squad under Blanc after the debacle of the World Cup, were small, nimble, fast and inventive."
The Daily Mirror meanwhile said England had been "taught a lesson by the one team that made Capello's look acceptable in South Africa."
"We have seen the future – and it fills us with dread," the Mirror commented. "Five months on from the World Cup, Fabio Capello looks increasingly like a man going through the motions, no longer really caring."
Both The Sun and the Mirror meanwhile poked fun at Capello's choice of headgear prior to the match.
The Italian disciplinarian was seen wearing a baseball cap which he later removed, but not before giving tabloid headline writers a bonanza.
"After the Wally with a Brolly, we've got the Prat in a hat," trumpeted the Mirror, referring to former England manager Steve McClaren's much-ridiculed final match in charge, when he carried an umbrella on the touchline.