Corinthians withdraw bid for Man City Carlos Tevez
Posted on July 21, 2011 by SoccerPunter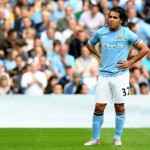 Brazilian side
Corinthians
said Tuesday they had admitted defeat in their attempt to sign Argentinian star Carlos Tevez from
Manchester City
.
City manager Roberto Mancini had said on Monday that the English Premier League club had agreed to a deal but the Brazilians contradicted him and then said Tuesday that time had run out with the transfer window in Brazil for players coming in from abroad closing Wednesday night.
The Brazilian side's initial offer for the 27-year-old striker was reportedly worth 40 million euros ($63.57m) but there has been much debate between the two clubs on how the fee would be structured.
In a statement on their website, Corinthians said the deal was off.
"There is no more sufficient time for the transfer to go through," the statement said.
However, the club added that "we hope to be able to count on Tevez in the near future."
Folha de Sao Paulo newspaper said the clubs had not been able to agree all the financial loose ends nor on a length of contract for the player who left the club for West Ham in England in 20006 a year after helping Corinthians to the league title.
It is understood City requested Corinthians make their first payment before the transfer is completed, instead of early in 2012 as stated in the Sao Paulo club's original offer, forcing negotiations to stall.
With the deal dead, Tevez's agent Kia Joorabchian said that the player would now take a holiday but would "respect" City if he fails to secure a move away from the club this summer.
Amid the proposals and counter-proposals, Corinthians president Andres Sanchez had said Monday his board would assess Manchester City's offer carefully but the board has clearly decided that there are too many sticking points to clinch a deal in the time available.
Striker Tevez wants to leave Manchester to be closer to his daughters, who live in Buenos Aires with their mother, his estranged partner.
The Argentina forward, who also starred for Manchester United for two seasons, led City to FA Cup glory and Champions League qualification last season.
City had hoped to sell Tevez to Corinthians to avoid him potentially leaving for a club with whom they are in direct competition, either domestically or in Europe, while also improving the player's family arrangements.
Tevez missed the crucial penalty kick as Argentina went out of the Copa America quarter-final 5-4 on penalties against Uruguay on Saturday.
If he does ultimately leave the club, City are expected to bid for compatriot Sergio Aguero of Atletico Madrid, who is currently keeping him on the Argentine bench.
Aguero, Diego Maradona's son-in-law, has a release clause of 50 million euros at Atletico.