Capello out, Redknapp to be next England manager?
Posted on February 9, 2012 by SoccerPunter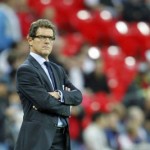 Fabio Capello resigned as manager of England on Wednesday following the Football Association's decision to strip John Terry of the captaincy, the FA confirmed.
In a remarkable twist to one of the most dramatic days in English football history, Capello's resignation was confirmed just hours after his likely successor Harry Redknapp was cleared of tax evasion charges.
Capello's departure from the post followed talks with FA officials reported to be furious at the Italian coach's public criticism of last week's decision to axe Terry as captain. Capello's position had come under scrutiny after he told an Italian broadcaster on Sunday that he disagreed "absolutely" with the dismissal of Terry, who faces a criminal trial for allegations of racially abusing QPR defender Anton Ferdinand during English Premier League match in October 2011.
Although senior FA officials were known to be unhappy with Capello's comments, the former AC Milan and Real Madrid coach was expected to remain for the final few months of his contract, which expires after Euro 2012.
However in a bombshell announcement released shortly after 7.20pm (1920 GMT), the FA confirmed that Capello's four-year reign was over.
"The Football Association can confirm that Fabio Capello has today resigned as England Manager," the statement said, following discussions between Capello, FA chairman David Bernstein and FA General Secretary Alex Horne.
"The discussions focused on the FA Board's decision to remove the England team captaincy from John Terry, and Fabio Capello's response through an Italian broadcast interview.
"Fabio's resignation was accepted and he will leave the post of England manager with immediate effect."
Capello was not immediately available for comment. FA officials have scheduled a press conference at Wembley on Thursday.
The 65-year-old took over as England coach in December 2007 following the country's failure to qualify for the Euro 2008 final, signed a lucrative £6 million-a-year contract with a brief to halt years of English footballing under-achievement on the international stage.
His hardline disciplinarian approach reaped impressive results during an initial two-year honeymoon period, when a revitalised England qualified for the 2010 World Cup with ease.
Capello won praise for his handling of the first controversy involving Terry's captaincy, when he summarily dismissed the Chelsea defender following allegations about his private life in early 2010.
However the bubble burst after a disastrous campaign in South Africa, which saw England draw with the United States and Algeria, scrape a 1-0 win over Slovenia before suffering a humiliating 4-1 thrashing by Germany.
Capello, who had controversially been given a contract extension just prior to the finals, managed to cling on to his position but in many respects was battling the perception of being a lame duck manager.
His clumsy handling of the decision to reappoint Terry last year — replacing Rio Ferdinand without informing the respected Manchester United defender first — was sharply criticised.
With the FA letting it be known that they would prefer Capello's successor to be English, Tottenham manager Redknapp emerged as the overwhelming favourite to take up the post.
The biggest obstacle to Redknapp becoming England manager vanished on Wednesday when the 64-year-old was acquitted of tax evasion following a two-and-a-half week trial at Southwark Crown Court.
One bookmaker immediately suspended betting on Redknapp replacing Capello as odds on the Londoner taking over were slashed.
Former England managers Graham Taylor and Sven-Goran Eriksson both said Redknapp would be a logical successor.
"Now that Harry has been proved innocent it makes a clear path should the FA wish in the future to offer him the England manager's job when Fabio Capello comes to the end of his reign," Taylor told the BBC.
Eriksson meanwhile said Redknapp had the perfect profile for the role.
"I think Redknapp will be a very, very good choice. He's English; he knows his football," he told the BBC.
"He is doing a great job with Tottenham and has done a great job with every team he's had in the past, so I guess it will be him.