Brazil to host 2014 World Cup from June 12 to July 13
Posted on July 28, 2011 by SoccerPunter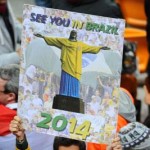 The 2014 World Cup in
Brazil
will take place between June 12 and July 13, FIFA announced on Wednesday, insisting that the country will be ready to host the sport's greatest tournament.
"The World Cup in 2014 will start on June 12 and finish on July 13. I know everyone wants to know the city that will host the opening game of the tournament, but that will be decided in October," said FIFA general secretary Jerome Valcke.
Five-time champions Brazil will host the tournament for the second time after 1950, when they lost the final at the Maracana stadium to neighbouring Uruguay.
The last South American hosts were Argentina in 1978.
Valcke also confirmed that the Confederations Cup would be held in Brazil between June 15 and June 30, 2013.
The preliminary World Cup draw takes place on Saturday in Rio.
There have been concerns over the progress of construction of the stadiums being used for the competition, but FIFA president Sepp Blatter insisted on Wednesday that the country of 190 million will be ready.
"The reality of facts is that still there is some work to be done," said Blatter. "Brazil and FIFA together will deliver an exceptional World Cup in 2014."
Valcke likened the build-up to the finals to similar doubts that were expressed over South Africa's readiness to stage the World Cup 2010 event.
"In Brazil we have the same concerns with South Africa and in the end you saw how it went. The World Cup will take place in Brazil, it will be great and they are working to be the best World Cup," said Valcke.
"Brazil is not ready for the World Cup tomorrow morning, as was the case in South Africa two years before the World Cup. We know most of the stadiums should be ready for the World Cup, the latest for late 2013."
The World Cup final may yet be in Rio's famed Maracana, though the hosts had initially slated Sao Paulo's Estadio do Morumbi for the honour.
However, last year it was dropped amid worries over financial guarantees for stadium improvements.
Security remains an issue but it is the state of the 12 venues that is posing a headache, with several behind schedule on construction or renovation, and/or over budget.
A mooted new venue in Natal in the north-east has yet to see the light of day and another in Minas Gerais state in the south-east is behind schedule owing to worker protests.
Organisers in Rio say they believe that the Maracana will be ready in time, but only after renovations costing some $625 million.
A further logistical issue is an airport system already running at capacity. A further influx of around 2.5 million football fans means a huge upgrade of the whole system is required.